Fujifilm 2019: Forget Fujifilm X-H2, Enjoy Fujifilm X-T30, Marvel at Fujifilm GFX100 and 2018 Rumor Check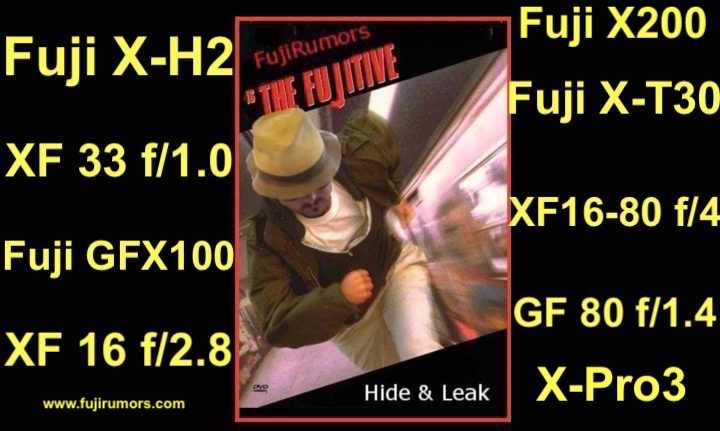 Fujifilm 2019
Thanks to our fantastic sources, 2018 was another incredibly busy and successful rumor year for FujiRumors, with 75 rumors shared (one rumor every 5 days) and a rumor hit rate of 92%.
I hope we could add a bit of fun and entertainement in the Fuji X and GFX world, and that you guys enjoyed the time spent discussing the rumors on this blog.
But what will 2019 bring?
We have already shared an overview at our Fujifilm X Camera Replacement Timeline. But let's go more in detail now.
And don't forget follow FujiRumors on Facebook, Instagram, RSS-feed and Twitter.
Our Owners Groups
Our Facebook Pages
No Fujifilm X-H2



Trusted sources told me that at this stage, Fujifilm does not plan to release the Fujifilm X-H2 in 2019. You can read the original rumor here.
X and GFX Cameras coming 2019
Fujifilm GFX 100
100 Megapixel BSI IMX461 sensor
Sensor already used by Phase One here
More expensive than Fujifilm GFX 50S. Price not final, but could be about as much as Hasselbald X1D
Available in 2019
Final Announcement 2nd Quarter 2019
4K video 4:2:0 10 bit internal and 4:2:2 via HDMI
no crop at 4K @ 30p
full sensor phase detection coverage
around $10,000 – Fuji US manager said $9,995
X Processor 4
resistant to up to -10°C
IBIS
Fujifilm GFX 100 size comparison vs Fujifilm GFX 50R and Canon, Sony, Nikon cameras
Fujifilm  X-T30
Coming first quarter of 2019 – report here
expect it to be 80% of the X-T3 in a smaller and more affordable package
Fujifilm X-Pro3 and X200?

I have no rumor for now, but our Fujifilm X camera replacement timeline would suggest the Fujifilm X200 or X100V to come in 2019. Questions remains open, if Fujifilm will anticipate the release of the Fujiiflm X-Pro3, or if they will skip one sensor generation, as they did with the X-Pro2.
XF and GF Lenses Coming 2019/2020
The official Fujifilm X roadmap shows an XF16mmF2.8, XF16-80mmF4 and XF33mmF1.0 and official Fujifilm GFX roadmap gives us the GF100-200mmF5.6, GF50mmF3.5 and GF45-100mmF4.
But one thing are official roadmaps, another are those secrets ones.
Some lenses on the secret roadmap might be launched without ever being on any official roadmap, as it happened in 2018 with the very affordable XC15-45mm muffin zoom (which btw enjoys really good reviews at AmazonUS).
For now, do not expect more than 2/3 lenses for the X system and 2/3 for the G mount a year, though. Fujifilm is aware that they need to speed up lens production, and hence this year they announced they will boost the lens production capacity by approx. 70% in 2020.
Fujinon X mount Lenses
Official
Fujinon XF16-80mm f/4 in 2019
Fujinon XF16mm f/2.8 in 2019
Fujinon XF33mm f/1.0 in 2020
Fujinon G mount Lenses
Official
Rumored
Rumor Overview with Rating
HIGH RATING*
* 75% to 99% correct
MEDIUM HIGH RATING*
*50% to 74% correct

MEDIUM LOW RATING*
*25% to 49% correct
Internal Fujifilm Document Predicts 50% Market Share Decrease for Canon and Nikon Within 2021 (shared May 4)
FUJIFILM X AF Lenses: SIGMA Needs Bigger Market Share, TOKINA Designed X Glass Already but Stopped by Royalties, TAMRON is Vague (shared November 20)
Fujinon GF Rumored Lens Roadmap Update: Tilt Shift Lens, GF20-35mm, GF 80mmF1.4 & More (shared May 31)
LOW RATING*
*1% to 24% correct

None, but it could be longest list, if I'd share all the fake rumors I get :)
_ _ _
2018 Rumor Check
CORRECT RUMORS IN 2018
WRONG RUMORS IN 2018