Fujifilm X-T100 Announcement on MAY 24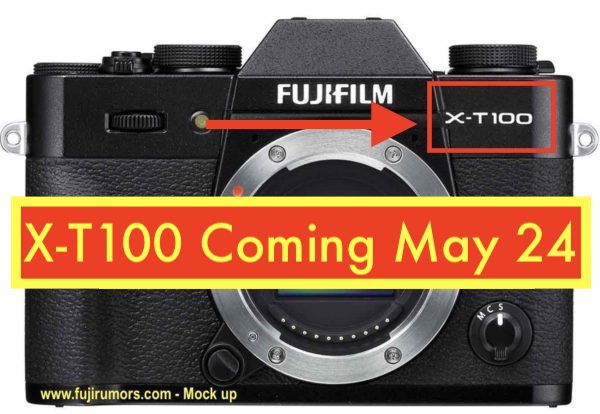 Fujifilm Announcements Coming!
Another, very long rumor story is about to end in the 2nd quarter of 2018, more precisely on May 24!
That's the day Fujifilm will announce the Fujifilm X-T100.
LIVE BLOGGING ALERT: Make sure to stay tuned on FR via Facebook, RSS-feed and Twitter.
Fujifilm X-T100
We shared the first rumors about the Fujifilm X-T100 back in September 2017. Over the following weeks and months, FujiRumors has shared braking specs of Fujifilm X-T100.
Here are the main specs again for you guys:
design similar to X-T20
24 Megapixel Bayer sensor
Selfie Screen
very affordable
The goal of the Fujifilm X-T100 is to close the gap between the EVF-less Fujifilm X-A5 and Fuji's mid-range X-Trans cameras like the Fujifilm X-T20 and Fujifilm X-E3.
The direct competitors of the Fujifilm X-T100 are cameras like the Olympus OM-D E-M10 Mark II and the Sony A6000.