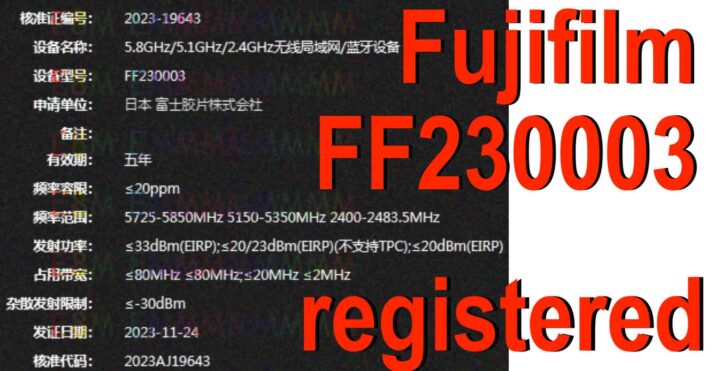 Fujifilm has registered the FF230003, so we now have a total of two unreleased products registered:
Ah, that's not enough!!!
Because as we told you, Fujifilm will announce more cameras in the first months of 2024 than in the entire year of 2023 (hence 3 or even more cameras in just a few months).
So there are still registrations missing here, trust me ;).
And we also told you (many months ago) what one of the cameras will be: the Fujifilm X100V successor (which you guys decided to call Fujifilm X100R).
Now, I can see the "rumors" about the Fujifilm GFX100R, Fujifilm X-Pro4, Fujifilm X-E5, Fujifilm X-T6, Fujifilm X-T40, Fujifilm X80, Fujifilm X-H3, Fujifilm X-H3S and more pop up. But those "rumors" appeared also ahead of the X Summit on May 24 and September 12, and of course none (not a single one!!!) of them materialized. But I guess misleading readers for traffic and good SEO is a great deal for them.
Here on FujiRumors we don't mislead you with fake rumors.
Here we will tell you the real deal, and you will know it all very soon (promised!!!).
Follow FujiRumors on Patreon, Facebook, Instagram, RSS-feed, Youtube, Flipboard and Twitter
Fujifilm Facebook Groups
via 猫_Nya_消散中