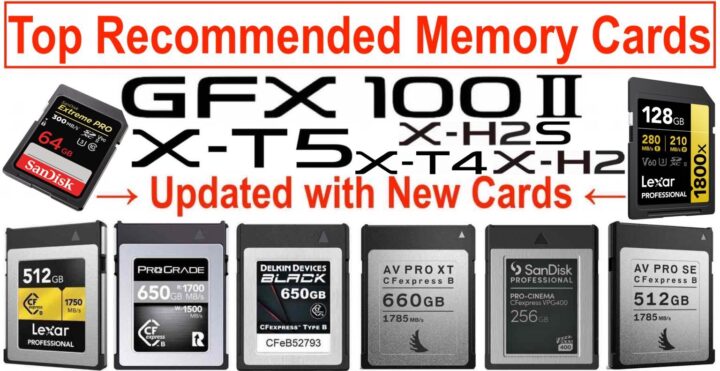 Fujifilm has updated its list of recommended UHS-II SD-Cards and CFexpress Type B cards for Fujifilm GFX100 II, Fujifilm X-H2S and Fujifilm X-H2. You'll find the detailed list in printed format below as well as in downloadable jpeg format also for Fujifilm X-T5 and X-T4.
But beware!
Not all CFexpress Type B cards are made equal.
Out of all the CFexpress Type B cards listed by Fujifilm, only the ones we highlight now give you access to the best performance without any limitations (longest bursts, access to all video codec, etc).
Overall Best CFexpress Type B Cards according to Fujifilm (no performance limitations)
Best SD-Cards
As far as SD-Card goes, depending on the camera you own, the recommended cards are slightly different.
For example, some SD-Cards recommended for the Fujifilm X-T4 (for example the Toshiba Exceria Pro) are now no longer recommended for the 40 megapixel Fujifilm X-T5. The updated list for X-T5 contains:
The detailed list of recommended cards for X-T5 can be found here and for X-T4 here.
Down below the SD-cards and CFexpress recommended for GFX100II, X-H2 and X-H2S.