Fujifilm Boost its Lens Production Capacity by 70%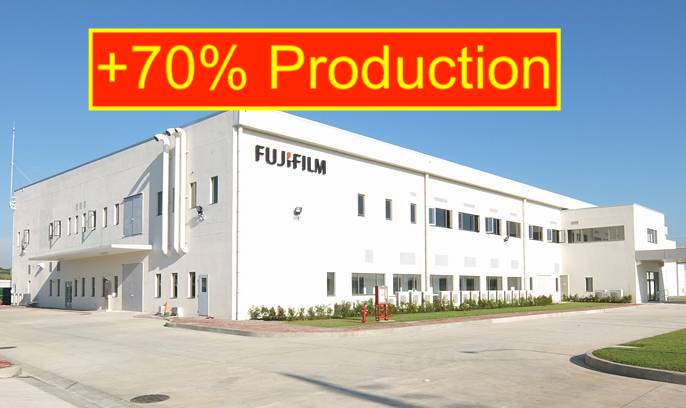 Fujifilm to boost its production capacity for interchangeable lenses
Addressing the ever-increasing demand for mirrorless digital cameras
Production Capacity to increase 70% by 2020
FUJIRUMORS LIVE BLOGGING – XF 8-16 mm F2.8 and XF 200mm F2 First Looks, Samples & More
Fujinon XF 8-16mm F2.8: BHphoto, Adorama, AmazonUS
Fujinon XF 200mm F2 + 1.4 TC: BHphoto, Adorama, AmazonUS
July 20, 2018
FUJIFILM Corporation (President: Kenji Sukeno) has announced that it will substantially reinforce its production capacity for interchangeable lenses in response to a growing demand for mirrorless digital cameras. Additional production facilities will be set up at the Taiwa Factory of FUJIFILM Optics Co., Ltd. ("FFOP"), a subsidiary for producing cameras and lenses in Japan. The new facilities will go operational in stages starting in September 2018. This expansion will boost the production capacity by approx. 70% in 2020, when all of the new facilities go fully operational.
Fujifilm entered into the mirrorless digital camera market in 2012 and continued to expand the lineup of the X Series of highly maneuverable APS-C mirrorless digital cameras. In March 2017, the company introduced the FUJIFILM GFX 50S ( "GFX 50S"), a medium-format mirrorless digital camera featuring a large sensor 1.7 times the area of a 35mm full-size sensor. Its superior image quality based on Fujifilm unique color reproduction technology, elegant design and outstanding operability have given the camera a strong reputation from professional photographers and photo enthusiasts. Tapping into the optical technologies nurtured through the production of FUJINON lenses, widely used in the broadcasting and cinematography industries, Fujifilm has worked on developing interchangeable lenses with excellent descriptive performance. The current lineup of interchangeable lenses includes 36 models, with sales expanding at the rate of over 20% per annum.
Fujifilm is substantially reinforcing the production capacity of FFOP's Taiwa Factory in response to a growing demand for mirrorless digital cameras and to achieve further sales expansion of interchangeable lenses for the X Series and GFX Series. Among new facilities to be installed are a large-scale cleanroom featuring the cutting-edge cleanroom analyzer, and other latest facilities that use AI to improve accuracy in optical adjustments. This will enable the production of interchangeable lenses at high quality and efficiency, resulting in advanced productivity in manufacturing ultra wide-angle lenses and large-diameter lenses, which require a high level of image resolving performance. Through this investement, the Taiwa Factory's production capacity will be raised by approx. 70% from the current level by 2020, when all of the new facilities go fully operational.
After the upgrade, the Taiwa Factory will combine the state-of-the-art facilities and production technology of skilled workers to manufacture not only the GF lenses, which draw out the advanced resolving performance of the GFX 50S, but also other interchangeable lenses which require highest manufacturing skill. They include an ultra wide-angle zoom lens announced today with a maximum aperture of F2.8 and focal length range equivalent to 12-24mm*, addition to the lineup of XF interchangeable lenses for the X Series, as well as a large-diameter telephoto lens, being developed for anticipated demand during the 2020 Tokyo Olympics, with a maximum aperture of F2.0 and focal length equivalent to 305mm*. Interchangeable lenses with "Made in Japan" quality, manufactured at the Taiwa Factory, will be distributed worldwide.
Fujifilm will continue to tap into its optical, precision processing and assembling technologies that have been nurtured in the cutting-edge imaging field over many years, to further expand the lineup of mirrorless digital cameras and interchangeable lenses, thereby broadening the photographic appeal of the X Series and GFX Series.
* Focal lengths equivalent in the 35mm film format
<Overview of the capital investment>
Site Taiwa Factory, FUJIFILM Optics Co., Ltd.
Address 1-6 Matsusakadaira, Taiwa-cho, Kurokawa-gun, Miyagi Prefecture
Facilities Cleanroom, automatic assembling equipment, optical adjustment device using AI, etc.
Production items Interchangeable lenses for mirrorless digital cameras
Operation launch timing To be launched in stages, starting in September 2018