Samyang to Launch Fujifilm X Autofocus Lenses in 2019 – Anonymous Source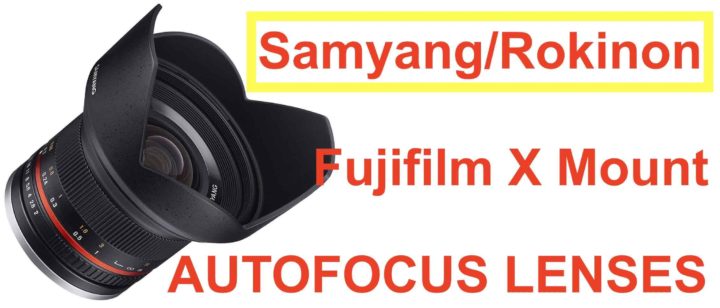 Samyang AF Lenses for Fujifilm
I have been contacted by an anonymous source, who told FujiRumors that Samyang/Rokinon does plan autofocus lenses for Fujifilm X mount and that they might come as soon as 2019.
I am a proud owner of the Fuji X-mount Samyang 12mmF2 lens, my go-to lens for astrophotography, and I can't recommend this lens enough to every X-shooter. So I am definitely looking forward to these rumored Samyang autofocus lenses.
The Samyang/Rokinon autofocus lens for Fujifilm would not be the first third party lens with autofocus support for Fujifilm.
In fact, Viltrox already announced (and is taking pre-orders here) the Viltrox 85mmF1.8 X mount autofocus lens. And of course there is the Zeiss Touit Fujifilm X Mount Trinity.
At Photokina, I went hands on with a pre-production Viltrox 85mm F1.8 AF lens using a Fujifilm X-H1, and I share an autofocus video as well as JPEG and RAW samples to download here.
Since this rumor comes from an anoymous source (thanks for sharing), take it with a grain of salt for now. But consider that also my very best sources started (and often still are) anonymous sources, who use a nick name.
FEED YOUR FUJI ADDICTION HERE:

Tell me How to Handle Rumors
First of all, thank to everybody, who shares rumors 100% anonymously using the rumor box. If you'd use a nick-name when sharing, it would be incredible helpful for me. But if you prefer not to, that's fine, too.
With that said, here is how I handle anonymous rumors.
Honestly, if I would share every fake rumors I get, I'd have at least 1 or 2 rumors to share a day.
But I prefer to keep my rumor-filter pretty strict, since FujiRumors shares about 100 rumors a year with almost 100% hit rate, and I would like to keep it that way.
Personally I have tried to find a balance between taking some risks and keeping a high accuracy, but you guys can tell me if you want me just to share everything I get, apply a preliminary filter at my discretion or share only trusted rumors. Vote the poll below.

Loading ...