Fujifilm X-E3 Will Get X RAW STUDIO Support via Firmware Update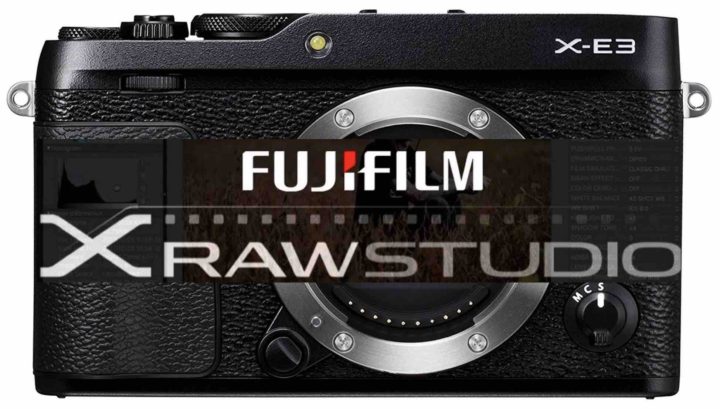 Fujifilm X RAW STUDIO
Hey all :)
Just a rumor flash to tell you that according to our sources (thanks), also the Fujifilm X-E3 will get X RAW STUDIO Support.
I remind you that Fujifilm Germany said here, that also the X-T20 will get X RAW STUDIO support as part of an "extensive firmware update" planed for early 2018 and that currently X RAW STUDIO supports the Fujifilm GFX 50S, X-T2, X-Pro2 and X100F.
This is a welcome news for all fellow Fujifilm X shooters, who don't do major editing work in Lightroom & Co, because they love Fujifilm's JPEG output and they just use the internal RAW converter to fine tune their images by changing white balance, film simulation, exposure and so forth,
X RAW STUDIO is a free, simple but efficient RAW converter software offered by Fujifilm, that allows you to use the in-camera processing engine to edit images on a proper computer screen and to see those changes applied to your images in real-time, as opposed to converting them in-camera, where you will only see how your changes affect your images, after you process them by clicking the "Q" button.
Personally I do use the in-camera RAW converter a lot, and frankly I would never buy into a system anymore, that does not have this feature.
I do like it to make quick adjustments to my images right in camera.
But I don't think the X RAW STUDIO software will be something I use, because for me, the internal RAW conversion is all about "on field" use. Take an image, adjust it in camera and upload to social media right away.
But when I am back home and on my computer, I don't see any use for the internal RAW converter anymore. I have Lightroom, Iridient, Luminar, Picktorial and enough RAW converters to take my time to work more seriously on my files… which isn't necessary that often, though, since Fujifilm's JPEGs out of the box or slightly adjusted with the internal RAW converter often give me already fantastic results.
With that said, we all have different workflows and preferences, and I can see quite some X Shooters preferring to edit their images using X RAW STUDIO at home, rather than using the internal converter on the field. So Fujifilm X-E3, X-T20 (&more) support is definitely welcome.
Feel free to join our Fujifilm X-E facebook group.
To know more about X RAW STUDIO check out also: