Fujifilm X-T20 Will Get Extensive Firmware Update Early 2018 – Fujifilm Germany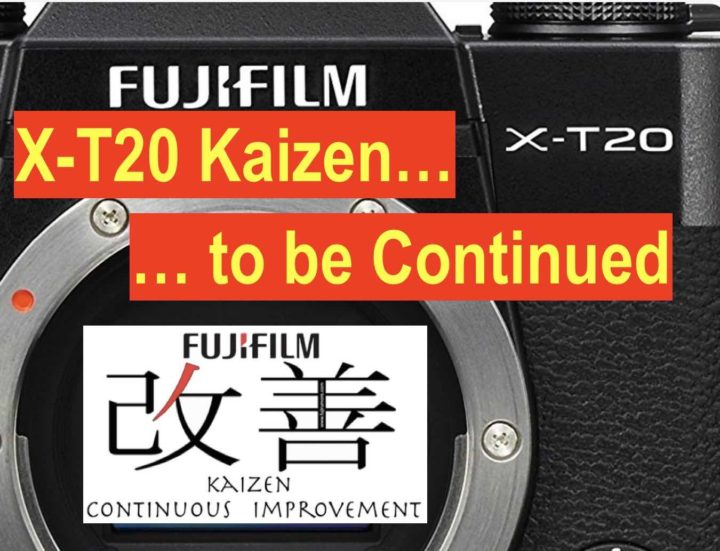 There Will Be Kaizen… for X-T20
*** NEW FIRMWARE TODAY ***
for X-T1, X100F and X-T20.
All details here
Fujifilm just ended 2017 with a bunch of firmware updates, some definitely worth to be called Kaizen, like the one for the X-T2 last month and the upcoming X-Pro2 firmware.
However, X-T20 owners were not so lucky, and basically could enjoy just the new EVF/Touch screen feature. Hence, all X-T20 were disappointed not to get the faster AF-tracking, the highlight blinkies, the RGB histogram and more.
But there is hope :)
Fujifilm Germany said in the comments (back on December 1) to one of their facebook posts (google translated):
"The x-T20 will get this feature [X RAW Studio support] with an extensive firmware update. The update is expected to be available early / spring 2018. Unfortunately, implementation is not possible for all models at the same time."
If Fujifilm Germany has correct information, then it is just a matter of time, and also Fujifilm X-T20 owners will get their Kaizen Love. And considering how successful the X-T20 line is, the "extensive X-T20 firmware update" in early 2018 will make many photographers happy.
Thanks to the FR-reader, who just dropped me this link. As you can see, it seems a news only exists once it is on FujiRumors. So even though the comment is old, there were no reports about it on the web.
However, what I don't see, you see it. Thanks a TON for your support. It means everything to me. Feel free to keep up sharing :)