Fujifilm X-H1 Faster Autofocus Than Fujifilm X-T2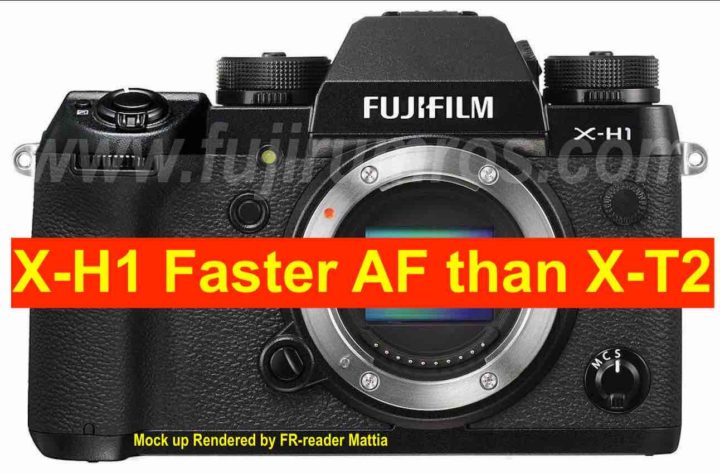 Hey guys…
First off: I have been told this by a new source a few weeks ago, and I say huge thanks to this source.
However, it's my habit to try to double/triple check rumors from new/anonmyous sources, in order to keep the rumor hit rate over 90% (where it currently is).
So far I still can't confirm this specific rumor, but after the recent rumor, that the X-H1 will have a basically black-out free EVF (despite sharing the same sensor and processor of the X-T2), I was debating if sharing or not… and now I decided to share, for the reason I'll mention below.
Fujifilm is very likely doing some major coding work on the software, in order to take the most out of the camera's potential.
The bigger body could also allow far better heat dissipation, and as a consequence Fujifilm can really squeeze the last drop of power out of the X Processor Pro, without having to worry about overheating issues.
Almost black out free EVF… even better Autofocus than the X-T2… the Fujifilm X-H1 is not only be Fuji's best video camera (IBIS, internal F-log and 4K), but probably also an ideal camera for sports photography… especially in combination with the XF200mF2 (mock up here), which will also be released in 2018.
I can't wait to finally see the real thing on February 14 :)
Make sure to follow us via Facebook, RSS-feed, and Twitter and allow push notification by clicking on the bell on the bottom right of your browser.
*** Fujifilm X-H Facebook Group ***
2018 will be awesome :)
Full Rumored X-H1 Specs
Accurate X-H1 Sketches and Renderings