The Curious Case of 2023 Rumors and the Big 2022 Rumor Check (97,6% Correct Rumors)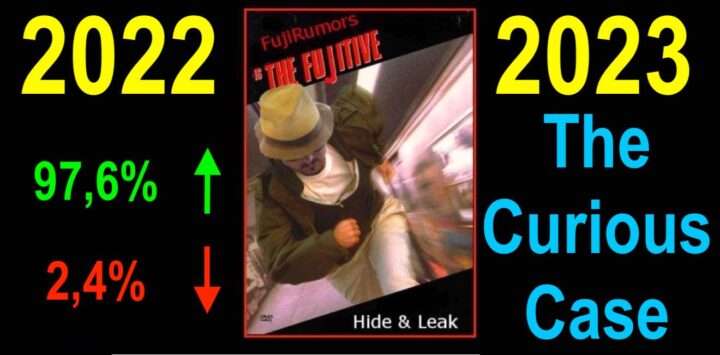 It's time for our yearly rumor check, so that you guys can decide if FujiRumors was worth your time or not.
88 rumors shared in 2022

3 rumors still to be verified
83 correct rumors out of 85 verifiable rumors
2 wrong rumors out of 85 verifiable rumors (and I am extremely severe to myself, as you'll see below)
97,6% correct rumors
Rumor Overview – The Curious Case of 2023
And here is the curious case for 2023.
Usually I end the year with about 10 to 20 future gear rumors that have been shared but can't be verified, as they are about gear that would come the year after and hence can't yet be verified if accurate.
But this time I only have 3 rumors and they are all about the future camera remote App (nothing about gear)
Fujifilm Working on a New Camera Remote App (shared July 6)
New Fujifilm Camera Remote App to Be Called "X-App" (shared September 8)
LEAKED Internal Fujifilm Document Shows Name of New new Camera Remote "X-App" (shared October 8)
As you can imagine, in order to have a basically 100% accuracy, I make multiple checks on the rumors, which means in many cases some time passes between the moment I receive a rumor to the moment I share it. And of course it's the case with rumors regarding 2023.
So don't worry. The rumors will drop also in 2023.
But it's curious anyway that it's the first time I don't have yet published anything about gear coming the year after, which for me means that after the New Year party, I will start to work harder than ever right away. So get ready ;).
But if anyone out there would like to share a tip or two, you're always welcome to use the anonymous rumor box or contact me via fujirumor@gmail.com (also PM on my social media is an option).
_ _ _
THE 2022 CHECK
CORRECT RUMORS IN 2022
WRONG RUMORS IN 2022
Fujifilm Will Promote X-H2 as Having "Improved Low/High ISO" Performance (shared August 11) – At launch, during the X Summit, the Manager said "if image quality is to be pursued, there should also be a pursuit of better Signal to Noise Ratio and Dynamic range. The X-Trans V sensor has been designed with wider pixel saturation achieving a lower base ISO". So the manager itself made the connection between lower base ISO and improved Noise and Dynamic Range performance. But while tons of statements were made about the sensor having better "signal to noise ratio", they don't use the words "improved ISO performance". And you know how brutal I am to myself, so I'll move this one in the wrong section.
Meike 135mm X Mount Lens Coming July/August (shared April 29) – Unless I missed it, I don't remember that that one ever came for Fujifilm