Fujifilm X-H2S Active Cooling Accessory Additional Details (Better than Canon R5 Tilta)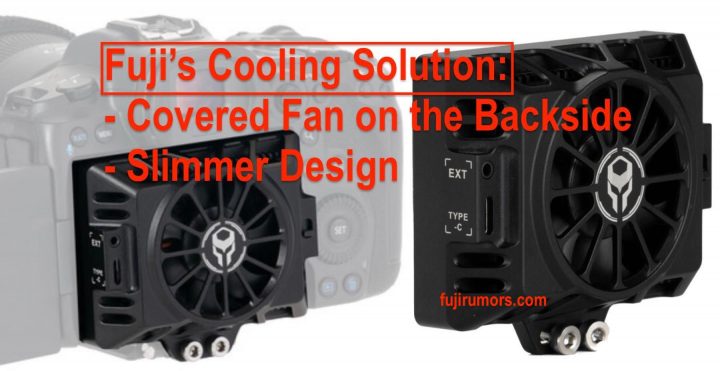 We shared the rumor about an external cooling accessory that Fujifilm will offer for the Fujifilm X-H2S.
When we shared that rumor, some mentioned that Fuji's solution reminded them of the Tilta Cooling System for the notoriously badly overheating Canon EOS R5.
Hence, many were thinking that also Fuji's solution would imply a fully exposed fan on the backside spinning on your face and cutting off your nose ;).
But that's not the case of the active cooling accessory for the Fujifilm X-H2S. The backside of the accessory will be nicely and safely covered.
Also, the Tilta Cooling Accessory is definitely rather thick.
But keep in mind, Canon did not design the R5 with any active cooling accessory in mind. This means that Tilta is kind of an improvised solution.
However, Fujifilm did design the X-H2S with this accessory in mind, so they have installed proper heat sinks and attachments that will allow for efficient cooling.
What this means for us in real life, is that the accessory itself will be also slimmer than the Tilta.
So, don't worry: Fujifilm's cooling accessory for the Fujifilm X-H2S will be overall a much more elegant, functional and efficient solution than the improvised Tilta cooling rig.
And remember: never judge anything based on rumors. Always wait for the official announcement (in our case May 31) to see by yourself, read the reviews and finally make your conclusions.
On my side I confirm: I believe this is a brilliant solution.
Fujifilm X-H2 and X-H2S rumored specs list:
The Fastest Growing Fujifilm Group
Follow FujiRumors on Patreon, Facebook, Instagram, RSS-feed, Youtube, Flipboard and Twitter
Join Our Owners Groups