Fujifilm X-H2S Images in Slightly Higher Resolution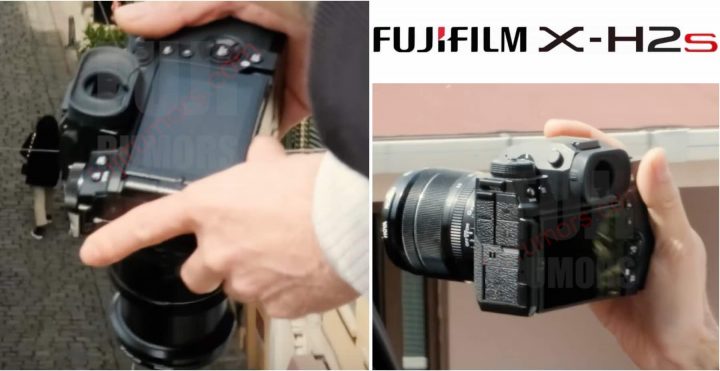 Yesterday we share the first hands on images of the Fujifilm X-H2S.
And while they gave us a lot of clues about the Fujifilm X-H2S already, some readers wished to get higher resolution samples of the images.
Now, due to the nature of the leak, it is impossible to get crystal clear images. However, I organized for you some slightly higher resolution images which you can see below.
Today I also have a bit more time to check out the images closer (yesterday I made the impossible possible in order to even be able to report about it).
So here is what I see:
joystick in X-T4/GFX100S style but place higher up
the D-Pad is there
fully articulating screen (as we told you)
no in-camera cooling system (as we told you)
the left side seems to give access to lots of different ports
looks like no drive dial under the big dial on the top left side of the camera
I can't spot any dedicated dial on the top right side
probably PSAM layout like Fujifilm GFX100S
Fujifilm X-E4 style strap lugs
Down below the images.
And remember: huge party here on FujiRumors on May 31 at the Fujifilm X Summit.
Oh, and stay tuned… we are not yet done with the rumors ;).
UPDATE:
A FR-reader took the Fujifilm X-H2S leaked images shared here on FujiRumors and let the files pass through Topaz Gigipixel AI. The result are definitely sharper images, although overall they do not add any information to what we already previously observed. You can see the images down below.
Reminder: You can use our checkout code "FUJIRUMOR" to get an additional 15% discount on all TOPAZ products (Click here) :