THE FINAL WORD: Fujifilm X-H2S Cooling Accessory, Good or Bad? Vote this POLL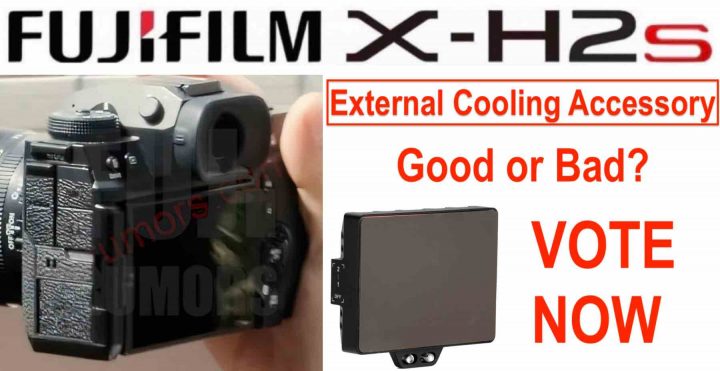 I have rarely..
No wait, let me re-phrase it.
I have NEVER experienced such a divise discussion about a Fujifilm accessory as in case of the upcoming Fujifilm X-H2S external cooling accessory.
So it's time to sum up all the position in one single survey and see if Fuji's solution is appreciated or not.
But before you vote, keep in mind this:
the X-H2S will record videos also without this accessory. It's not that you press the record button and the camera will instantly overheat
if you do a mix of photos and not too long videos, you don't have to attach the cooling fan to the camera
the cooling accessory is probably more something for when you plan to make longer continuous videos (an interview, etc) and want to make sure you don't occur in any overheating issues
this accessory is NOT like the improvised suboptimal third party Tilta solution for the Canon R5, so the backside of the accessory will NOT expose the fan and it will also be slimmer and more efficient
My take?
The DNA of the X-H line is in the letter "H" which stands for "Hybrid"!
And being hybrid, it has to work fine for both stills and video shooters.
This also means that compromises are inevitable: stills shooters tolerate the selfie screen vloggers love, and video shooters will have to tolerate to occasionally have to mount the cooling accessory on the camera for longer video recordings (how long we will see on May 31).
This is why overall I applaud this solution. it gives video shooters the option to record long videos under bright summer sun without any overheating worries and at the same times gives stills shooters a more compact and affordable camera.
But what about you? Feel free to vote the survey down below.

Loading ...
The Fastest Growing Fujifilm Group
Follow FujiRumors on Patreon, Facebook, Instagram, RSS-feed, Youtube, Flipboard and Twitter
Join Our Owners Groups