BREAKING: Fujifilm X-H2 Will Come in 2022 and be Worth the Wait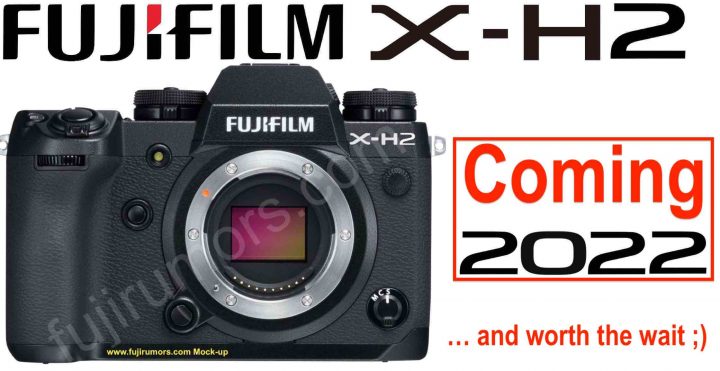 Fujifilm X-H2
Ok, my little boy sleeps. So let's rock it :).
Recently Fujifilm registered a new camera, the FF210001.
The top guess in the comments was that this is the Fujifilm X-H2, and I know why.
In fact, popular youtubers and websites either gave it as a fact or speculated that the Fujifilm X-H2 will come in 2021.
FujiRumors preferred not to join the "X-H2 in 2021" club. What we did, though, is to contact our sources and ask them what they think about it.
Well, according to multiple trusted sources, the Fujifilm X-H2 will come in 2022.
Also, our top trusted Japanese source enthusiastically wrote me it will be "well worth the wait". We scheduled a skype talk for next days, so I hope to be able to get more details soon and be allowed to share them here on FujiRumors with you guys next.
Looks like the big breakthrough for the Fujifilm X-H2 that Fujifilm was talking about will happen, but still needs a bit more time.
Ah, one more thing: more rumors are coming ;).
Fujifilm X-T4 Anyone
Look, I own the Fujifilm X-T4, and I genuinely think that it's an fantastic camera with the arguably best value for money ratio of any camera also in 2021.
Also, Fujifilm hinted that autofocus improvements will come via firmware update, so also this could help to make the waiting time for the Fujifilm X-H2 easier.
Good things take time. You want the X-H2 to be amazing. Fujifilm will deliver, but needs just a bit more time for that.
Follow FujiRumors on Patreon, Facebook, Instagram, RSS-feed, Youtube, Flipboard and Twitter
Join Our Owners Groups
Join Our Facebook Pages
Sieh dir diesen Beitrag auf Instagram an