Fujifilm Manager Interview: Future X/GFX lenses, Autofocus Improvements Coming, X-Trans Benefits, Beyond Full Frame and More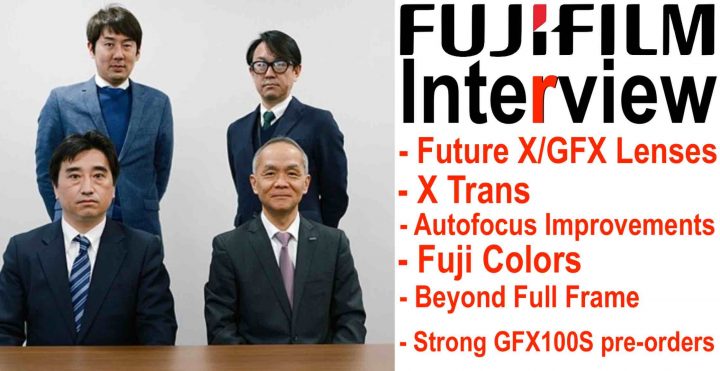 DPReview conducted an interview with several Fujifilm managers.
A summary as well as the link to the full interview below:
GFX
GFX100 target are professional photographers. Has integrated batter grip and tilt EVF
GFX100S goal is to appeal to a wider range of users, including advanced amateurs who currently shoot full frame
when developing the GFX100S, Fujifilm wanted it to be almost as small as a full frame cameras
to make it so small, they re-designed IBIS and other components, plus optimized the internal layout of those components
on GFX100S, they managed to put the battery inside the grip, which was an important factor that contributed to size reduction
shutter unit is smaller and also battery
the original GFX 100 was designed for ultimate ruggedness and durability and has an strong inner chassis to withstand external shock
GFX100S has no vertical battery grip option because there is the GFX100 for that
people loved the image quality on the GFX100, but they also wanted a smaller, lighter and more affordable body
If future GFX cameras will all have IBIS? That depends on the size and design constraints of future bodies. But for 100MP, IBIS is required in order to maintain image quality
GF lenses currently cover from 23mm to 350mm (the GF 250mm with a 1.4X TC)
Fujifilm continues to develop some "missing" focal lengths
Fujifilm has received lots of requests for wider prime lenses and tilt shift lenses as well as wide angle zoom lenses. Fujifilm is "studying" these lenses
GFX100S opens the door to a lot of customers
lots of pre-orders for GFX100S
Full frame is not the only format
price is only one factor. There is also features, size, ease of use. All this together gives opportunities to meet new customers
price is very important, but not the top priority for the GFX system. Priority is to achieve high quality. And for that it needs better IBIS, bigger shutter, bigger sensor
that's why on the GFX system the price needs to be probably a little higher than full-frame
but Fujifilm tries to minimize the price gap with full frame
X Series
Currently missing are super telephoto lenses (500mm and 600mm)
Fujifilm X series started 10 years ago. Some lenses are old, have slow autofocus and no weather sealing. Fujifilm needs to refresh them
despite COVID-19, sales of the X100V are on the same level of X100F
X-T4 was a success on the market. Great balance between price and performance
Autofocus
Fujifilm is working on improving autofocus, and some improvements will come via firmware update, some via hardware updates
Eye AF works well now even with people wearing glasses and masks
Fujifilm has to improve tracking in distance
AF speed is great, but some details are missing in tracking AF. If something comes between camera and your subject, you might lose focus
the AF algorithm has to be improved
some lenses are old, and can't focus very fast
Videography and Computational Photography

X-T4 is great for video and stills
Videographers really like fully-articulating LCD screens, but some stills photographers don't
if Fujifilm wants to appeal to videographers, they need to think at about a different form factor
Fujifilm has to think at market size. But sure, some videographers requested a different form factor
Computational Photography? If sensor and processor are very fast, then you can do lots of things with it
in future "those things" will be technically possible
the harder part is how to integrate computational photography into their cameras. Fuji has to think at what customers want and what will benefit them
Is X-Trans still needed now that resolution increases?
Even with higher resolutions, X-Trans still works better
Thanks to X-Trans, Fujifilm cameras have less moiré and false colors
the GFX100 is Bayer, but has no moiré or false colors. But APS-C 26MP cameras still need X-Trans
COVID-19
Impact of COVID-19 was less than Fujifilm expected
however, Fujifilm noticed less demand for sub 1K cameras and more demand for high-end X and GFX cameras. This trend has accelerated during COVID-19
Fujifilm focuses on high end cameras
no major strategy changes needed due to the pandemic
Future Challenges
continue developing IBIS technology
make interface easier to use
keep innovating and make breakthroughs
Fuji biggest point of differentiation is color reproduction. So a challenge is to let people know about Fujifilm's unique image quality
explain the benefits of large format [Note: that's how Fujifilm calls their medium format GFX line]
Imaging Division

The camera division is a very important part of Fujifilm
Fujifilm is committed to make the camera business flourish
Fujifilm wants to make digital cameras and imaging systems that inspire photographers to create images and tell stories
"We are not just a camera company, we are an imaging company"
cameras like X-S10 try to win over people, who shoot with smartphone only
in 2018, Fujifilm sold 10 million Instax cameras. That's also a potential customer base for their X series
You can read the full interview at dpreview.
The Gear
The Latest and Greatest
Follow FujiRumors on Patreon, Facebook, Instagram, RSS-feed, Youtube, Flipboard and Twitter
Join Our Owners Groups
Join Our Facebook Pages