Fujifilm X-H2 Announcement in May and Celebrating 10 Years of Fujifilm X Series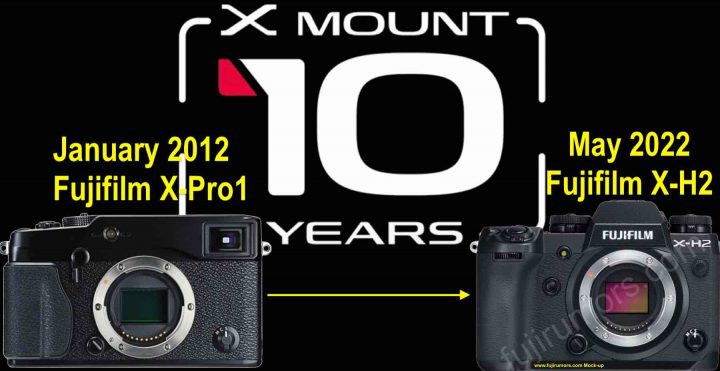 So now we know it:
As we reported earlier today, Fujifilm has announced the 5th generation X series camera to be launched in May 2022.
No more than that.
However, FujiRumors readers know it since May 2021 already: the first X series camera to feature an all new sensor and processor will be the Fujifilm X-H2. And actually, not only one, but two Fujifilm X-H2 will come in 2022.
Sure, that's the huge news of the day.
However, I allow myself to bother you for the second time this Sunday, to hightlight something that otherwise probably would pass unnoticed.
In fact, Fujifilm has released a couple of videos to celebrate the 10th anniversary of the Fujifilm X mount (the X-Pro1 was launched in January 2012), and in addition to the Fujifilm X Summit in May, they also annouced a new video project called "Reflections" and a #10YearsOfXMount hashtag campaign.
So we have the following:
Fujifilm X Summit in May: 5th generation Fujifilm X Series cameras – Fujifilm X-H2
Video Project "Reflections": Fujifilm would like to feature X-users who they came to know during their 10 year journey. The first video will be released on the 26th of January.
#10YearsOfXMount hashtag campaign: Fujifilm will set a theme each month, and you can share a photo about that theme on your social media using the hashtag. The theme for January is "my best photo" (you know which one is mine)
GFX Challenge Program (we reported here): Fujiflm will select 50 projects, then narrow it down later on to 15 and in the final round 5 projects will be selected
What we know from previous teaser is that Fujifilm will launch a stacked BSI X-Trans APS-C sensor.
In the same video (you can see below), the Fujifilm manager also says:
X-Pro1 was announced 10 years ago on January 9, 2012
customers feedback was very positive especially due to the X-Trans sensor and high quality lenses
Since then, Fujifilm as introduced about 30 camera models and over 40 lenses
You can also find other celebration videos down below as well as chech out the dedicated Fujifilm X 10th anniversary website.
Also the Fuji Guys and X Photographers started sharing their celebration videos. You can see them all down below, and I will add more videos to the article once they go online.
Fujifilm X-H2 Rumor Recap