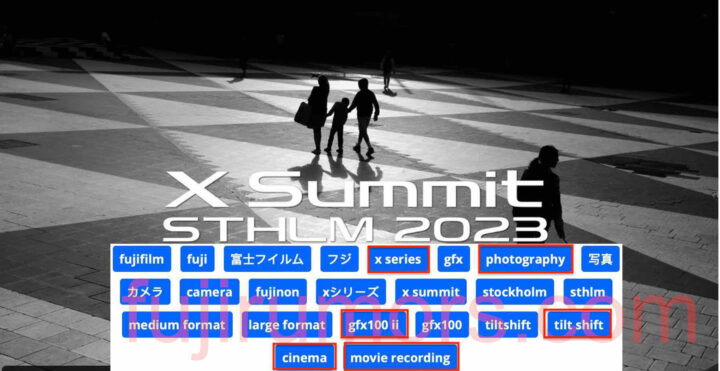 Fujifilm has just put their countdown for the X summit on September 12 on their YouTube page.
Of course the video can't yet be watched (will start Sept. 12 at 5AM New York time).
But here is the thing.
As soon as the video was up, I extracted the tags of the video and saw that the full tag-list included terms like "GFX100 II", "tilt shift" and more (see screenshot above). I tried again now, and the tags that unveil what's coming are no longer there.
So luckily I was fast enough to grab them for you. ;)
Now let's go over them.
Let's start with the tags that 100% tell us what's coming September 12.
Fujifilm GFX100 II
Tilt Shift
According to my knowledge, also the Fujinon GF55mm f/1.7 should come on September 12.
Looking at the other tags gives us a sense on what the main focus of the event will be:
photography
cinema
movie recording
It's interesting to see so much emphasis on the video side of things. And we already told you that the GFX100 II will bring several new features, such as Video touch-to-track Autofocus, Waveforms Monitor and Anamorphic Mode.
A tag that gives X series users hopes:
Now, there are no specific tags for Fujifilm X-Pro4, X-E5, X-S30, X-T6, X-T40, X-H3, X-H3S, X80, X100VI (X200) or whatever. So little hopes for any X series camera to come, otherwise they would have tagged it just like they tagged the GFX100 II.
But I'd already be very happy if behind that "X series" and "fujinon" would hide for example the unveil of a new X series lens roadmap, which is long overdue.
Anyway, overall a very GFX-centric event, with hope for X series tidbits too.
Fujifilm X Summit September 12 at 5 AM New York Time
GFX100II Rumors & More
Follow FujiRumors on
Fujifilm Facebook Groups