BREAKING: Fujifilm X-H2 Coming with Two Different Sensors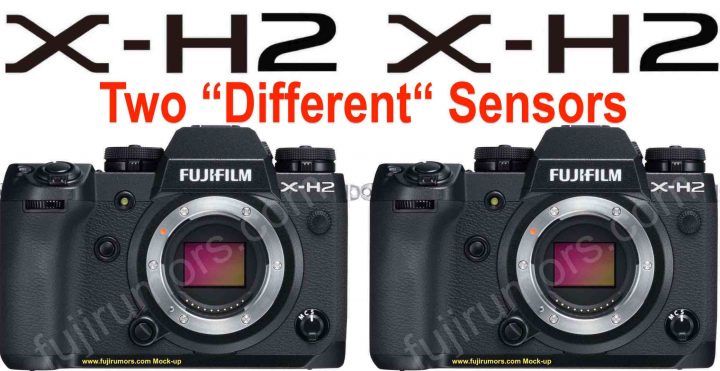 VERY LAST HOURS

– save 28%
on
Capture One 22 pre-upgrades (click here)
(20% discount offered by Capture One plus additional 10% with code
FUJIRUMORS
).
No better pre-upgrade deal is coming, not even at Black Friday. This is the best deal and it will end at 6PM New York Time today!
Fujifilm X-H2
Recently I wrote an article, where I said that Fujifilm should do it a bit like Sony, and offer different sensors in the same camera.
However, I also said that I don't believe that will happen, as at the recent X summit, Fujifilm has teased one (1) new sensor coming, not two.
But well, I was wrong.
A trusted source reached out to us and told me that yes, there will be indeed two Fujifilm X-H2 cameras coming as FujiRumors already told, but the source added that the two Fujifilm X-H2 cameras will feature two "different" sensors.
No more details given to me for now.
So I guess the question now is, what does "different sensors" mean?
FujiRumors already told you that there will be a 40 megapixel sensor in the Fujifilm X-H2. So at least in one of them (if not both) will come with 40 Megapixel.
Maybe there will there be one 40 megapixel X-Trans and one 40 megapixel Bayer sensor Fujifilm X-H2? With X-Trans for better image quality and the Bayer sensor for a more affordable X-H2 version? We have explained the X-Trans/Bayer difference recently here.
Or will there be two completely different sensors? With different megapixel or even different sensor technologies?
Again, keep in mind that all Fujifilm announced is one (1) new BSI stacked X-Trans sensor.
So the options I see are these:
Fujifilm is hiding something from us
FujiRumors is wrong and there will be just one X-H2 with one sensor
there will be two X-H2 cameras and both will feature a stacked BSI sensor
Another question: will both Fujifilm X-H2 have the identical body, or will the body be a bit different? Maybe one more video-centric body with external fan and selfie screen and one more photo-centric body with 3-way tilt screen and more compact?
It happens rarely, but I admit I am a bit confused at this point.
If anybody out there can help me out of this state of puzzlement, feel free to contact me via fujirumor@gmail.com (with real or fake email) or anonymously via rumor box (you can use a nickname so I can recognize you in future).
You can also reach out to me via personal message on Facebook, Instagram or Twitter.
save 28% on Capture One 22 pre-upgrades (20% discount offered by Capture One plus additional 10% with code FUJIRUMORS).
No better pre-upgrade deal is coming, not even at Black Friday. This is the best deal and it will end in about 24 hours.
Fujifilm X-H2 rumor recap