Fujifilm 2023: Can it Beat the Amazing 2022? A Look at What's Coming (for sure) and What we Hope for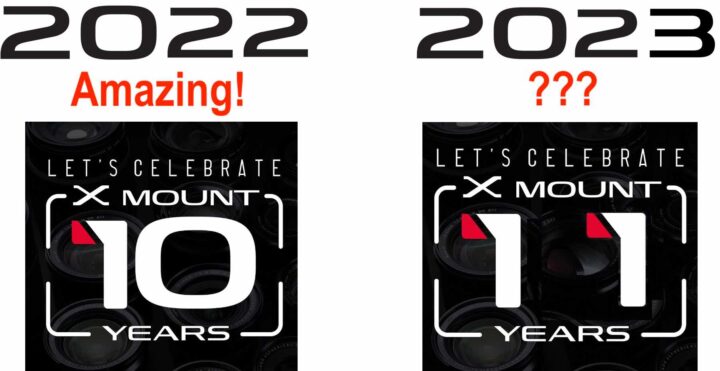 Fujifilm was the most busy camera brand of all in 2022.
They have released three higher end cameras, four XF lenses and one GF lens. Plus some accessories, such as the legendary cooling fan and the TG-BT1 Tripod Grip.
Now the question is: can the Fujifilm year 2023 match the year 2022 in terms of product launches?
Well, let's look at it.
LENSES in 2023
I have looked at the past announcements (until back to 2018), and I saw that Fujifilm has launched between 4 to 7 lenses a year.
For 2023, Fujifilm has already announced 4 lenses. That's just one lens less than what we got in 2022 (5 lenses).
In 2022 the focus was on X mount lenses and so far in 2023 Fuji's priority seems to be releasing more GF lenses.
But will there be more lenses?
I don't know yet, but it would not be unusual for Fujifilm to launch lenses that they have not yet on the roadmap, especially if those are MKII lenses. And there is a MKII lens very high on your wishlist.
And then there are of course your top lens wishes, which we have shared here.
Cameras in 2023
Looking back until 2018, Fujifilm has launched from 3 to 7 cameras a year.
However, the one year they launched 7 cameras, 4 of them were entry level cameras developed by the Xacti corporation. According to multiple hints Fujifilm managers gave in several occasions, I highly doubt we will ever see another entry level camera. The cooperation with Xacti seems to be over!
So 7 cameras seems to be an unrealistic number (as we can exclude entry level).
The average is about 3 to 4 cameras.
Of course I am working on it and I will let you know as soon as I can.
For now, we can take the results of your future X camera wish and future GFX camera wish, and based on that, here is what you guys want most:
for the X series, you guys are hungry for rangefinder styled cameras, preferably with 40MP
for the GFX series, you guys desire more speed rather than more megapixel
But stay tuned on FujiRumors… I am making steady progress in finding out what we will get in 2023.
Don't Stop Voting
List of Fujifilm Related Gear launched in 2022
IN DETAIL – How much Gear did Fuji launch in the Past?
As a reference, let's see how much gear Fuji has launched in previous years:
2018 – Full List here
7 cameras
1 GFX camera + 7 X series cameras*
6 lenses
1 GF lens + 5 XF/XC/MKX lenses**
*4 of the 7 cameras belong to the "entry level" segment that Fujifilm has very likely completely axed.
** not counting teleconverters/extension tubes
2019 – Full List here
4 cameras
1 GFX camera + 3 X series cameras*
4 lensers
2 GF lenses + 2 XF lenses
* 1 X camera was the X-A7 from the axed entry level line
2020 – Full List here
4 cameras
zero GFX cameras + 4 X cameras*
5 lensers
2 GF lenses + 3 XF/XC lenses
* not counting the infrared GFX100 and one X camera was the X-T200 from the axed entry level line
2021 – Full List here
4 cameras
2 GFX cameras  + 2 X cameras (but it should be 1 only*)
7 lenses
2 GF lenses + 5 XF lenses
* the X-T30II was a not planed emergency product and can't really count as a dedicated camera (it's just an X-T30 with better LCD)
2022 – Full List here
3 cameras
0 GFX cameras + 3 X series cameras
5 lensers
1 GF lens + 4 XF lenses