Two Things Fujifilm Should SAVE from their Axed Entry Level Line and Bring to Mid-Range X Cameras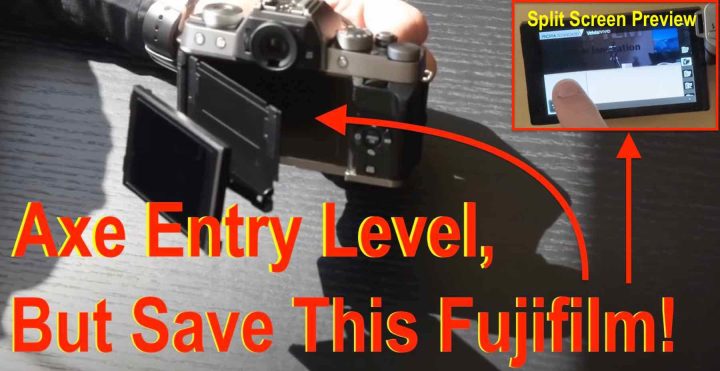 NOTE: As some FR-reader noticed, the screen design of the new Sony A7rV is similar (not identical) to the one of the Fujifilm X-T100.
Two Things to Save from Entry Level
I think Fujifilm has been pretty clear about the fact that entry level is no longer on their radar.
And many FR readers could not care less about the X-T200, X-A7, X-A20, X-M1 (although I'd personally find it a pity if especially the X-T*** line would disappear).
So yes, those lines might be gone.
But there is something to be found in Fuji's entry level cameras that higher end models do not have and that I think would be nice if they'd find their way into some of Fuji's remaining camera lines.
And if I'd have to pick two, I'd say: the unique tilt/flip screen of the Fujifilm X-T100 (similar – but not identical – to the one of the brand new Sony A7rV) combined with the before/after split screen slider on the X-T200 screen.
Those are just nice features that I could see work well on some X series camera lines.
Those could be also appealing features for those customers used to photograph only with smartphones and who are looking for a more serious camera to document their daily life.
Do you agree with it? Would you love to see that type of screen also on other Fujifilm cameras? And if so, which lines do you think would be the best fit for this type of screen?