Sony A7rV vs Fujifilm X-H2 vs Fujifilm GFX100S – The Complete Specs Comparison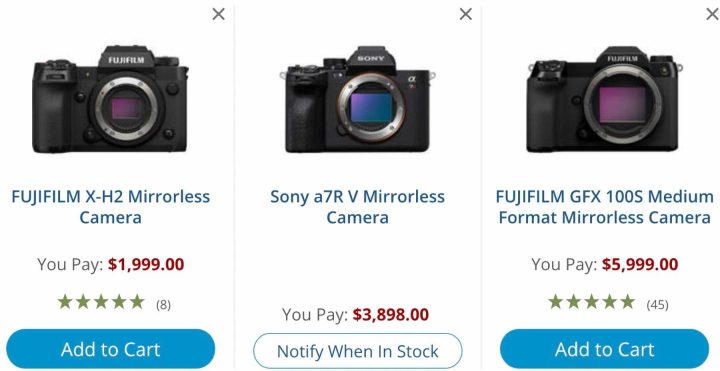 Sony just announced the Sony A7rv, a 61 megapixel camera without stacked sensor.
In the Fujifilm world the non-stacked high resolution competitors would be the Fujifilm X-H2 and the Fujifilm GFX100S.
You can check out the complete specs comparison at the B&H comparison page here.
With the Fujifilm X-H2 costing just half the price of the Sony, to me this shows once again that the best balance is offered by APS-C. Also considering that the 40MP Fujifilm X-T5 will come in at an even lower price.
But if price does not matter and resolution as well as ever so slight increase in dynamic range is what you need, then you can also pay 50% more than the A7rV and get 67% more pixels and plus better dynamic range on the Fujifilm GFX100S.
It's just nice that we have so much choice these days.
But Specs…
But specs alone don't tell the whole thing and in some cases they can be even a bit misleading.
The Fujifilm GFX100S might beat the Sony A7rV when it comes to resolution and dynamic range, but the Sony A7rV and of course the latest Fujifilm APS-C cameras have superior autofocus and better video features.
Another example… the Sony A7rV has a 9 Million dot viewfinder as opposed to the 5 million dot EVF of the Fujifilm X-H2. But the EVF of the X-H2 has all new optical elements that give an incredible corner to corner sharp view.
And once you go at 5+ million dots and beyond, it gets harder and harder for the human eye to notice any difference. In fact, I have read statements of journalists who used both viewfinders, the one of the new Sony A7rV and the Fujifilm X-H2, and they said that they honestly can't see any difference. So I guess it's up to companies to decide if customers have to spend more money on even higher resolution EVF's that bring no real life benefit, but that allow them to brag on the specs sheet, or use a more affordable EVF that gives just the same results.
What on the other hand makes much more influence on the real life shooting experience of the Sony A7rV is the new tilt screen, which is similar to the one Fujifilm already used many years ago on the Fujifilm X-T100, and here on FujiRumors we said that this is actually one of the two features Fujifilm should take from their entry level line and implement in higher end cameras.
So, as in everything, there is much more than just specs that define a camera. But specs are a good start, and you can compare them here at BHphoto.