Fujifilm GFX Lens Roadmap Just Announced with Ultra Fast, Ultra Wide and Tilt Shift Lenses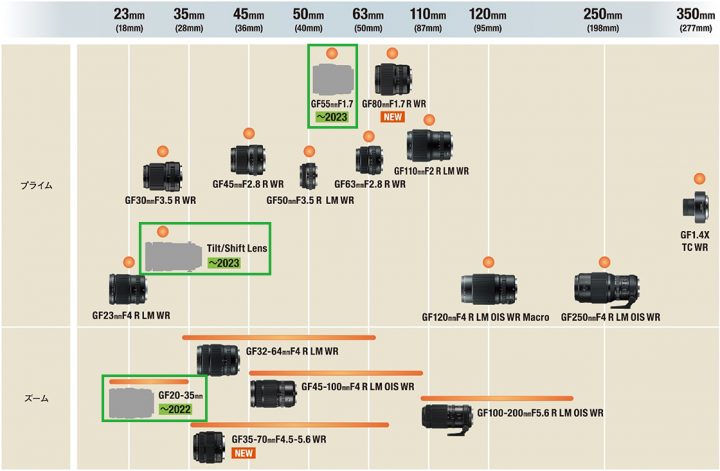 Interchangeable lens for mirrorless digital camera "GFX series" Latest development roadmap released
Expanded to a lineup of 17 lenses by adding 3 lenses! Expanding the area of ​​ultra-high-quality shooting with a large format sensor
GFX50S II
BHphoto / AmazonUS / Adorama / Focuscamera
GF 35-70mmF4.5-5.6
BHphoto / AmazonUS / Adorama / Focuscamera
Press release
September 2, 2021
FUJIFILM Corporation (President: Sadaichi Goto) has released the latest development roadmap for the interchangeable lens "GF lens" for the mirrorless digital camera "GFX series" equipped with a large format sensor * 1 that is about 1.7 times larger than the 35mm format. I will publish it. In this development roadmap, we will shoot a zoom lens that covers the widest shooting area of ​​the "GF lens", a large-diameter standard single-focus lens that can depict with rich bokeh, and architectural photographs and advertising photographs. We will add three new tilt shift lenses that are ideal for. The lineup of "GF lenses" has been expanded to 17 lenses, further expanding the range of ultra-high-quality shooting with large format sensors.
Interchangeable lens newly added to the roadmap this time
➀ Super wide-angle zoom lens
This zoom lens covers the shooting range from the widest focal length of the "GF lens", which is 20mm (35mm equivalent: 16mm equivalent) to 35mm (equivalent to 28mm). Since it exerts overwhelming resolution from the center to the periphery of the image, it enables sharp depiction of the details of the subject. You can enjoy dynamic photographic expression that incorporates a vast background by taking advantage of the ultra-wide angle of view.
➁ Large aperture standard single focus lens
A large-diameter standard single focus lens with a focal length of 55 mm (35 mm equivalent: 44 mm equivalent). Similar to the "Fujinon Lens GF80mmF1.7 R WR" released in February this year, it achieves an extremely bright open F value of 1.7. Combined with the shallow depth of field unique to large format sensors, it enables depictions that take advantage of the rich bokeh.
➂ Tilt shift lens
This lens is equipped with a tilt mechanism that allows you to adjust the focus range as intended, and a shift mechanism that corrects distortion that occurs when shooting tall buildings. Ideal for commercial photography such as advertisements, it meets the needs of professional photography sites.
Today, we announced the launch of the Fujinon Lens GF35-70mmF4.5-5.6 WR, a compact and lightweight zoom lens with a frequently used focal length. With this product and the extensive lens lineup that includes the three lenses shown in the roadmap this time, we will provide the splendor of photography and the joy of taking photographs.
* 1 An image sensor with a diagonal length of 55 mm (width 43.8 mm x length 32.9 mm) and an area about 1.7 times that of the 35 mm size.
Roadmap for developing interchangeable lenses for the "GFX series"