These are Your Top X and GFX Camera Wishes for 2023 – and They are Quite Clear on What You Want!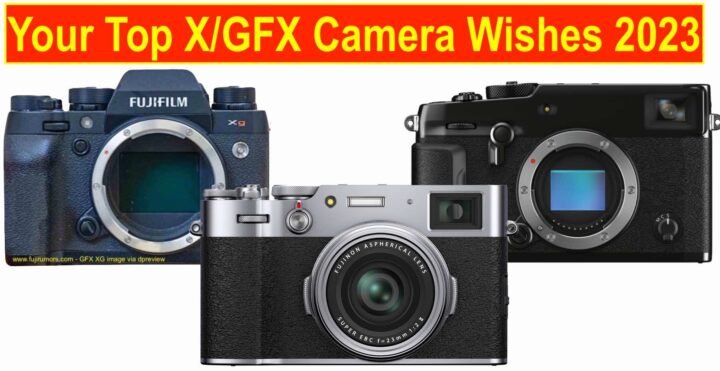 I've looked at the results of your future X camera wish and future GFX camera wish.
Here they are… and what they tell us.
X series
X-Pro4 with 40MP
X100V with 40MP
X-Pro4 with 26MP stacked
GFX gear
GFX100R with 102 MP BSI stacked sensor
GFX100T with 102 MP BSI stacked sensor (the X-T styled GFX concept)
GFX100S with 102 MP BSI stacked sensor
Conclusion for X series
There is a tendency to prefer more megapixel over more speed. And as a Fujifilm X-T5 owner myself, I can understand why: the X-T5 is plenty of fast enough for most of us thanks to the brand new processor. Plus, the 40MP sensor gives us the best dynamic range on any X series camera.
But most importantly, the list is dominated by rangefinder cameras.
So, after a year full of DSLR styled cameras (X-T5, X-H2 and X-H2s), people are hungry to see something happening on the rangefinder front… and I am totally with you guys!
Conclusion for GFX series
Stacked sensor makes the top of the list. Which means that contrary to the X series, for the GFX series people desire more speed rather than more resolution.
List of Fujifilm Related Gear launched in 2022