RUMOR: Fujifilm to Launch Two Tilt Shift Lenses for GFX in 2023 – SPECULATION: Fujinon GF21mmF4 TS and Fujinon GF30mmF4 TS?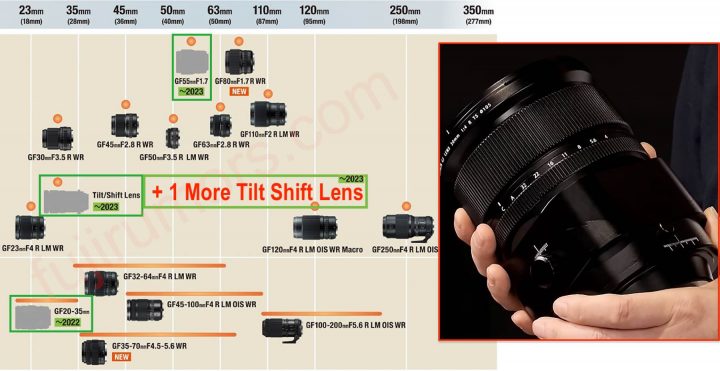 On the official G mount roadmap, Fujifilm says that there will be a tilt shift lens (not lenses) coming in 2023.
And in fact, they even showed us during the X summit in September 2021 mock-ups of that lens. We can clearly see it's a GF30mmF4 TS.
But here is the thing.
We have been informed, that Fujifilm does not plan to release one, but two tilt shift lenses for the GFX system in 2023.
If Fujifilm does not change plans, one of them will surely be the Fujinon GF30mmF4 TS.
As for the second one, you might remember how back in 2019 Fujifilm officially asked you guys which tilt lenses you want to get for your GFX. For your convenience, you can see the survey again down below.

Loading ...
Out of the four options Fujifilm gave us, most of you wanted the widest one, the Fujinon GF 21mm F4 Tilt Shift.
The second spot went to the one lens Fujifilm will make for sure, the Fujinon GF30mmF4 TS (unless they change their mind).
A smaller number of the GFX community desired a Tilt Macro option.
Since my source mentioned a second "tilt shift" and not "tilt macro" lens, all those who voted for the Fujinon GF21mm F4 TS can be quite hopeful now.
But I don't have details on the second lens. It could be also something totally different. I will see if I can find out more for you guys and will eventually let you know here on FujiRumors.
Follow FujiRumors on Facebook, Instagram, RSS-feed and Twitter
RUMOR, NEWS and COMMUNITY