New Fujifilm Patents: Fujinon GF 20-30mmF4, GF 24-50mmF3.5-5.6 and 50-380mmF3.3, 35-280mmF3.3 (Cine Lenses?)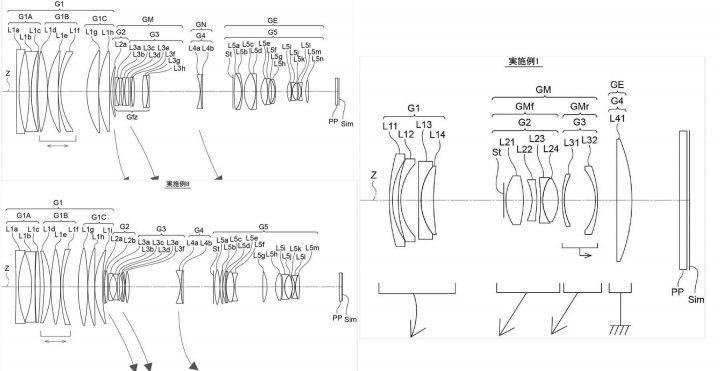 I was debating with myself if I should stop to report about patents at all.
Why?
Because in 10 years of blogging I have shared hundreds of patents on FR, and none has ever seen the light of the day. What I have seen once or twice, is a patent surface only after the real lens had been already announced (making the patent "leak" useless)
The problem?
I notice that when I report about patents, people think this means the patented item will surely come, it's just a matter of time.
And that's a problem, because:
So I don't want to create false hopes by sharing patents, as those are concepts written on paper, and they remain such in 99% of the cases.
On the other hand, this is a rumor site. Those patents exist, even if the products in those patents will never see the light of the day.
So I decided that I will report about patents, but I will put my disclaimers hoping people will read more than just the mere headline.
And today we talk about a couple of GF and probably Cine lens patents surfaced on the web and brought to us thanks to the Japanese website Asobinet here and here.
So let's look at them one by one below.
GF Lenses
As Asobinet writes:
Example 1 seems to be the optical system of "GF35-70mm f/4.5-5.6 WR" which is put to practical use. As a zoom lens for GFX, it seems to be small and lightweight and compatible with the GFX100S. In addition, there are examples of implementations that are assumed to be "30-60mm f/5.6" and "30-80mm f/4.5-6.8" as similar optics. Since GF35-70mm f/4.5-5.6 has already appeared, there will be no additional similar zoom lenses.

What's interesting is the examples of the second half about the optics that are likely to be "20-30mm f/4" and "24-50mm f/4.5-5.7". At the moment, there is no GF lens with a shorter focal length than 23mm. And "GF20-35mm" has been announced at the X Summit in the past, and it is rumored that the open F value will be about F4. The relationship with the implementation example in this patent application is unknown, but it's an interesting flow. Example 9 also shows an optical system that is likely to be "24-50mm f/4.5-5.6". Like 35-70mm f/3.5-5.6, are you considering a relatively compact lens that is not on the roadmap?
Example 1
Focal length: 36.046-67.893
F value: 4.62-5.76
Angle of view: 77.8-43.8
Statue height:
Total length:
Back Focus: 22.090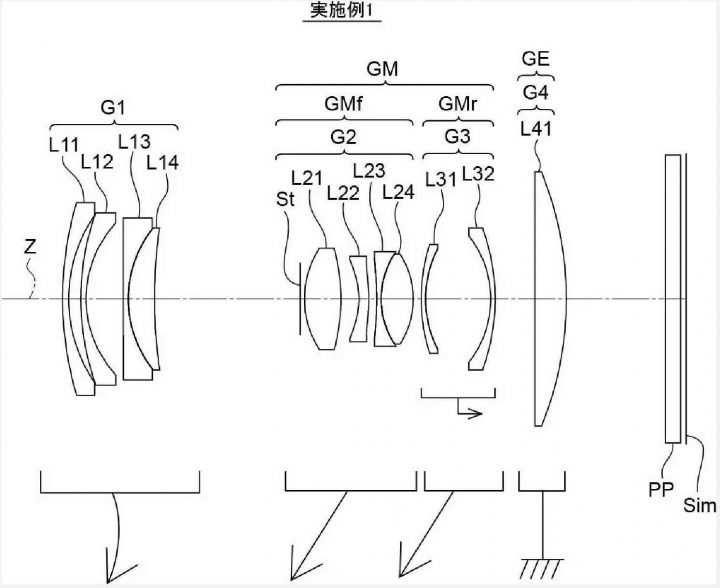 Example 3
Focal length: 31.062-58.506
F value: 5.76-5.77
Angle of view: 89.2-49.2
Back focus: 21.795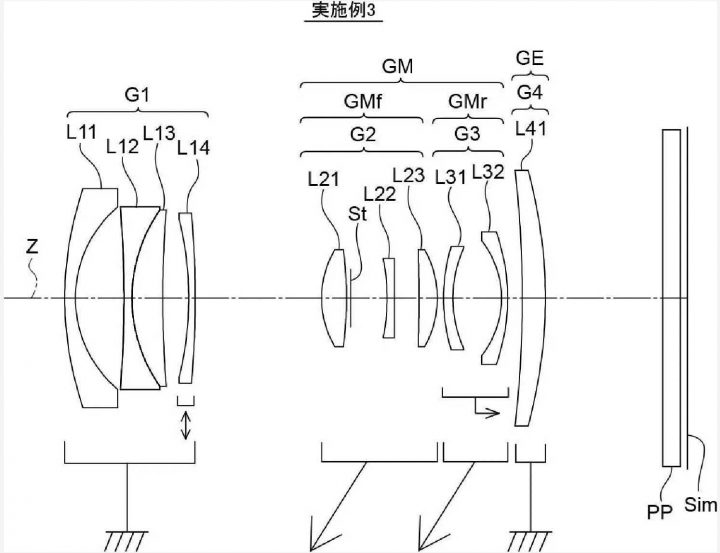 Example 5
Focal length: 32.972-80.123
F value: 4.64-6.82
Angle of view: 87.8-37.6
Back Focus: 21.780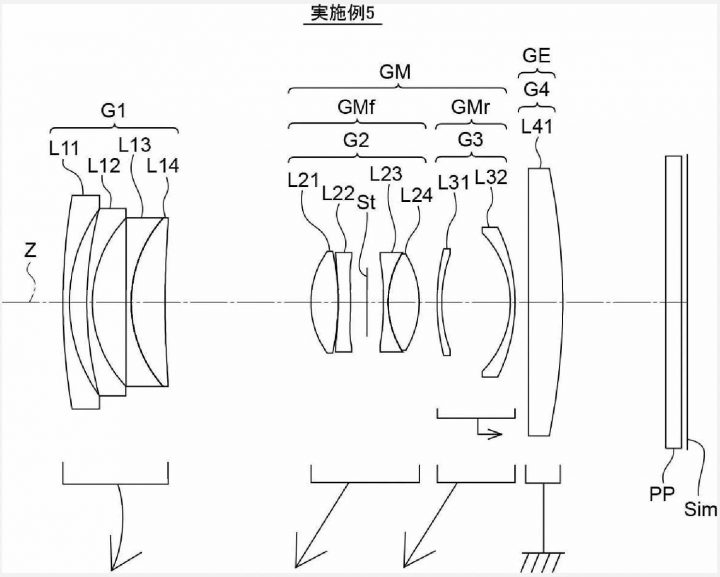 Example 7
Focal length: 20.617-31.132
F value: 4.12
Angle of view: 111.8-81.8
Back Focus: 18.734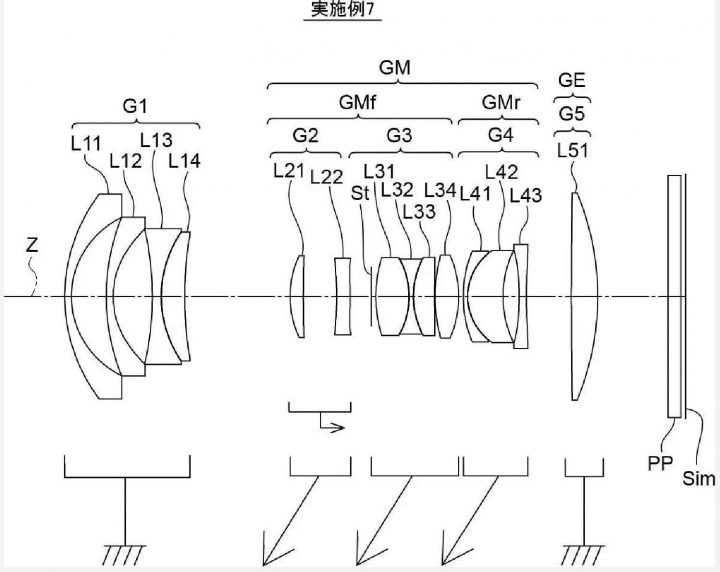 Example 9
Focal length: 24.232-48.463
F value: 4.64-5.70
Angle of view: 111.2-60.4
Back focus: 26.552
Cine lenses
It's a telephoto zoom lens for full-size sensors that are not for Fujifilm X series or GFX series. Considering the very complex and long optics, a huge focus group (G1B), and the long back focus, it seems to be a patent for cine lenses. It is unclear whether it is a patent used in existing lenses or new lenses that will appear in the future.
Fujinon 50-380mmF3.3
Focal length: 50.018-385.642
F value: 3.30
Angle of view: 50.2-6.8
Image height: 23.4
Back focus: 49.842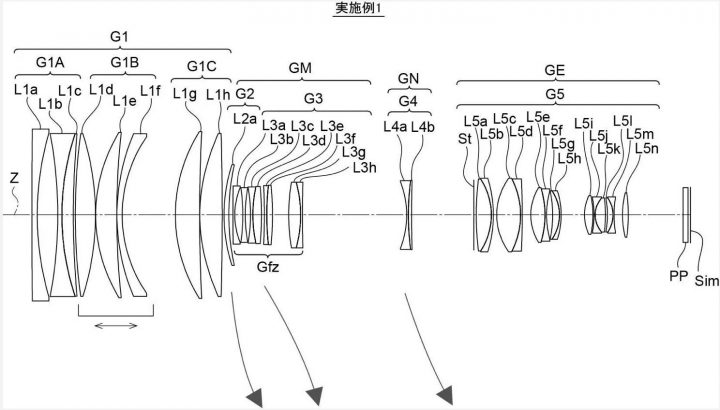 Fujinon 35-280mmF3.3
Focal length: 36.224-279.646
F value: 3.28
Angle of view: 68.2-9.4
Image height: 23.4
Back focus: 67.563