BREAKING: Fujifilm X-T5 to be Announced in… and it Will Surprise 84% of You! – New Source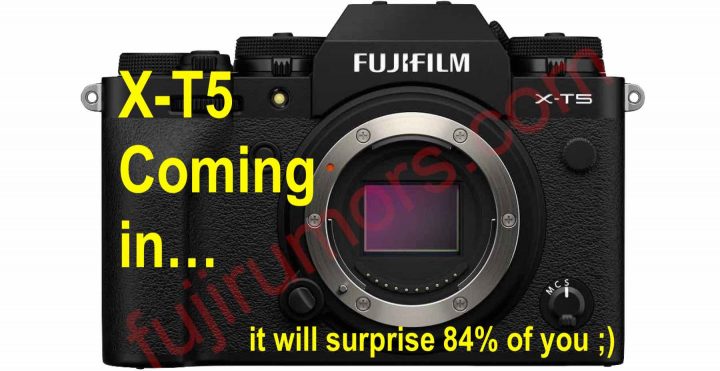 Fujifilm X-T5
Here are a few things we know already for sure from trusted sources about the Fujifilm X-T5:
Today we have another information, coming from a new source (thanks).
In my chat with the source I evaluated the information good enough to be shared today (I am rumor site at the end of the day), but I will work on getting it confirmed by trusted sources.
According to the new source, the Fujifilm X-T5 will be announced in 2022.
This comes unexpected for 84% of us (as this survey shows), and, if confirmed, congratulations to the 16% of you who got it right!
Now I will work on:
When time has come, you'll learn a lot more about the Fujifilm X-T5!
And if anyone out there has something to share about the Fujifilm X-T5 and wants to put the Fujifilm community on fire like never before, feel free to contact me at fujirumor@gmail.com or via PM on any of our social media.
100% Fuji Colors Power
Rumors and Discussions