2021 Rumor Check: What's Right, What's Wrong and What's Still to Come in 2022 (with Reliability Ranking)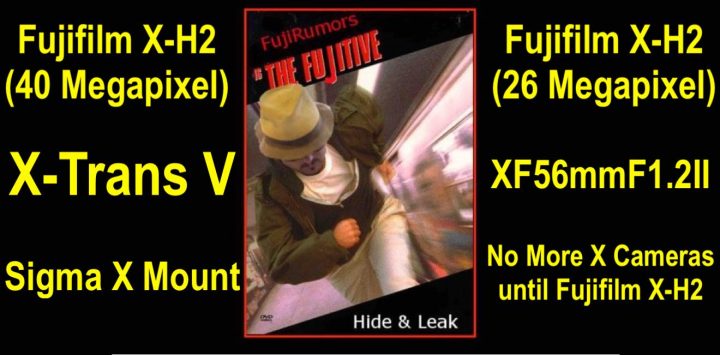 In 2022 we will have for sure a very wild ride here on FujiRumors.
But before we jump on the 2022 rumor-rollercoaster, let's look back at how things went in 2021.
And I tell you this: I will be BRUTAL to myself, because out of the 5 wrong rumors, I personally consider only 1 really wrong. Why? Well, read my notes at the bottom of the article and I think you'll agree with me.
Note: if you wonder where the "Sigma X mount lenses coming in 2021" rumor is, well, that was a rumor we shared back in 2020, hence it is not in this list. The rumor however has been sort of confirmed a few months later by Sigma itself, who literally wrote on their social media "we may see some X mount Sigma lenses in 2021". And after tons of teasers, even the Sigma CEO himself confirmed X mount glass is coming. Sure, I consider this a wrong rumor shared in 2020, but it is clear to me that once again it's the parts shortage that forced Sigma to adjust their schedule.
With that out of the way, here is the 2021 rumor check:
83 rumors shared in 2021

13 rumors still to be verified (all rumors with high reliability)
65 correct rumors out of 70 verifiable rumors
5 wrong rumors out of 70 verifiable rumors
92,8% correct rumors
Rumor Overview with Rating (about Gear coming in 2022)
HIGH RATING*
* 75% to 99% correct
MEDIUM HIGH RATING*
*50% to 74% correct

Fujinon XF56mm f/1.2 MKII and XF23mm f/1.4 MKII coming 2022 (shared April 20 – not that while announced, the XF23mmF1.4II will be released in 2022 just as we predicted)
Fujifilm X-H2 with 8K DCI/UHD Video Coming 2022 (shared April 12)
MEDIUM LOW RATING*
*25% to 49% correct
nothing
LOW RATING*
*1% to 24% correct

nothing
_ _ _
THE 2021 CHECK
CORRECT RUMORS IN 2021
WRONG RUMORS IN 2019
Notes:
2 wrong rumors are about items that I told you would ship a bit earlier than they really shipped. The delay is due to the parts shortage, and Viltrox sort of even confirmed that. Same goes for the GF35-70mm, although in this case it is not the parts shortage that caused the delay (but I can't tell you more, sorry)
2 are related to the X-T30II, a forced last second project by Fujifilm dictated by the parts shortage. It is an X-T30 on firmware steroids and better LCD screen. Personally I consider the two rumors I've shared correct, because I do not consider the X-T30II a new camera. And probably not even Fujifilm does, as during the X summit in September they talked about a lot of gear, but they did not mention the X-T30II at all. But hey, I told you I'll be brutal to myself.
1 is again just a wrong shipping date. It actually has been provided directly by Samyang USA customer support to a FR-reader, but apparently Samyang USA was not aware they'd be able to ship it earlier than expected
Not in Ranking
nothing in this category