New Fujifilm Patent Shows Fujinon XF35mmF1.4 MK II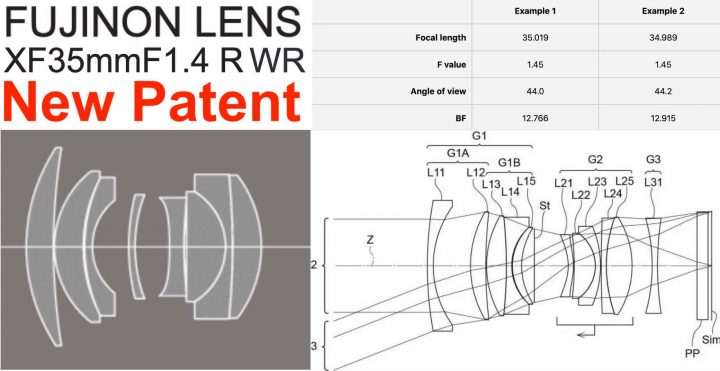 A new Fujifilm patent published today shows an XF35mmF1.4 with a different optical design compared to the original Fujinon XF35mmF1.4, although the base lens configuration is similar.
Hence, it looks like a XF35mmF1.4 MK II lens.
Also the size seems to be a bit larger compared to the original 35mmF1.4, maybe to further improve optical quality. The size increase might also indicate a better AF motor and weather resistant design.
Here are the details of the patent:
[Publication Number] Japanese Patent Application Laid-Open No. 2021-28708 (P2021-28708A)
[Publication date] February 25, 2021
Description: Imaging Lens and Imaging Device
[Application date] August 12, 2019
[Applicant] [Identification number] 306037311
[Name or name] FUJIFILM Corporation
PROBLEM TO BE SOLVED: To provide an image pickup lens having a short total length of a lens system, satisfactorily correcting various aberrations, and having high optical performance, and an image pickup apparatus provided with the image pickup lens.
My take on it?
I know many desire an updated XF35mmF1.4, as it is the oldest Fujinon lens. I own this lens, and I love it. And I can see of course areas of improvements like AF speed and noise.
But two years ago I wrote a controversial article, called "The Magic of the Fujinon XF 35mm f/1.4 Explained and Why Fujifilm Should NOT Make an XF 35mm f/1.4 MK II", where I shared the very unpopular idea that Fujifilm should not update this lens.
You can read my reasoning in this article.
And always keep in mind, these are patents. And patents should always been taken with a grain of salt.
Why?
Because for example we also spotted patents for an XF16-55mmF2.8 with OIS in 2016, and people were immediatly thinking that Fujifilm was working on an updated Fujinon XF16-55mmF2.8. But as you can see that never happened.
Follow FujiRumors on Patreon, Facebook, Instagram, RSS-feed, Youtube, Flipboard and Twitter
via j-platpat.inpit.go.jp via asobinet via hi-lows-note.blog
Join Our Owners Groups
Join Our Facebook Pages