Updated Fujifilm 2019/2020 Camera and Lens Release Timeline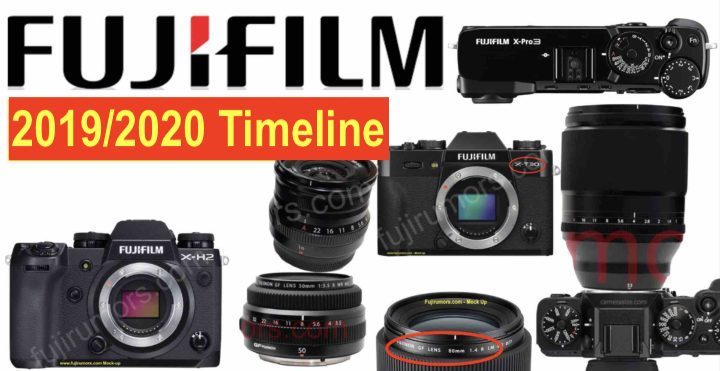 Fujifilm Timeline
It's high time to update our older Fujifilm 2019/2020 camera and lens release timeline.
This is just an approximate timeline and expect to see updates to this list over the next few weeks and months.
For now, this is mainly just an update to the list we shared back in January.
All rumors are as always exclusive FujiRumors.com information. When I just make some guess, I will highlight that for you in the notes.
IMPORTANT NOTE: We are talking about release timeline, not announcement timeline.
How Many Lenses a Year?
as we told you here, at the current pace and current resources, Fujifilm can release about 2/3 GF and 2/3 XF lenses a year
the list below contains 1 XF and 1 GF lens
hence we can expect to see 1/2 more XF and 1/2 more GF lenses to join the list
Fujifilm has given up options to vote which lenses should come next
Fall 2019
Coming 2020
Expect 1 or 2 more X as well as GF lenses. My guess:
GF 21mm F4 Tilt Shift
XF 10mm F2
Probably NOT Coming 2019/2020
* our sources say it will not be released in 2019, and probably not even in 2020. But Fujifilm managers confirmed here, that the X-H line will continue

Top Possible Bonus Gear in 2020
Fujifilm GFX50 MK II or GFX100S/R ****
* based on this old rumor rumor
** wishful thinking based on XF10 disappointment
*** no rumors. but please, FUJI, PLEASE!!!
**** no rumor, just a mere wild guess
BREAKING RUMORS on FujiRumors Facebook, Flipboard, Youtube, Instagram, RSS-feed and Twitter
Rumors and Discussions

Stay in the Loop