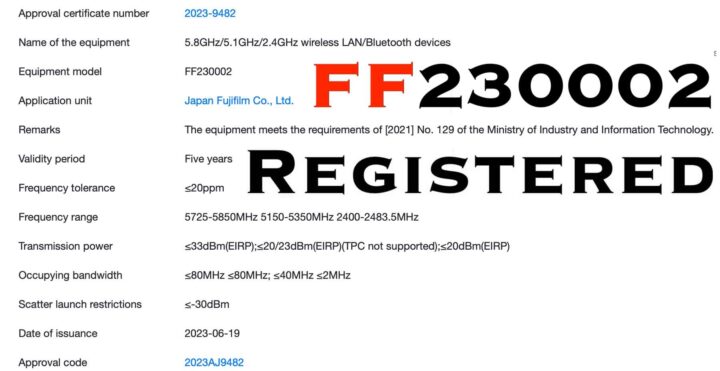 Fujifilm has registered the FF230002, so we now have a total of 2 registrations:
One of them will certainly be the Fujifilm GFX100 successor, which we already rumored months ago here.
Now, I can see the "rumors" about the Fujifilm GFX50R successor, the Fujifilm X-Pro4, Fujifilm X-E5, Fujifilm X-T6, Fujifilm X-T40, Fujifilm X80, Fujifilm X-H3, Fujifilm X-H3S, Fujifilm X100VI or X200 and more pop up. But those "rumors" appeared also ahead of the X Summit on May 24, and of course none of it materialized. But I guess misleading readers for traffic and good SEO is a great deal for them.
FujiRumors will let you know what the real deal is… clickbait and misleading free as usual ;).
FF230002
5.8GHz/5.1GHz/2.4GHz
≤20ppm
5725-5850MHz 5150-5350MHz 2400-2483.5MHz
2023-06-19
The patent has been found at cmiitid by the Japanese website asobinet.
Fujifilm Facebook Groups