X-ProF, (Re)designing the Perfect Camera :: Fujifilm X-T5 Wishlist :: X80 with 40mm Lens :: Fujifilm GFX 50R II :: FR-Readers Wishlist Corner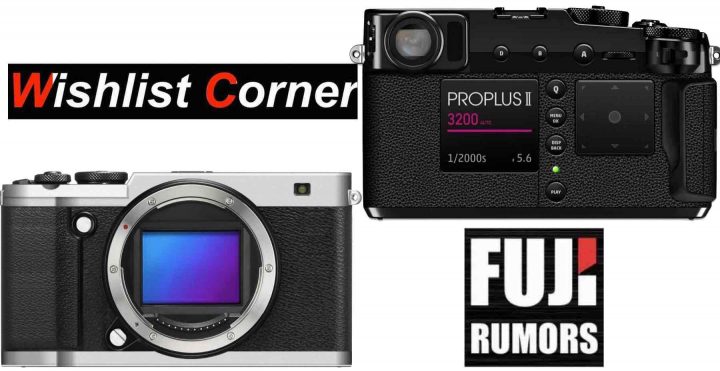 FR-Readers Wishlist Corner
Here is another roundup of wishlist shared by the FR-community to me via email at fujirumor@gmail.com.
Previous Wishlist Episodes: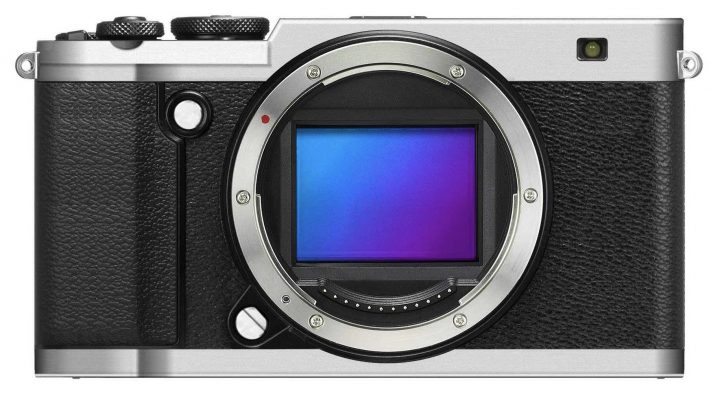 by Jacob
Hi Patrick,
It's been a while. (Instax Wide Printer)
I saw your article mentioning the GFX 50R has been discontinued; hoping for a mark II model, 50MP is plenty. In the spirit of encouraging Fujifilm to make a successor, here's a design I did last year.
I was inspired by Fuji's TX-1, aka their X-Pan, as well as Ivan Joshua Loh's Silver X-Pro 1. I made the body wider, gave it a slightly deeper/taller grip, cleaner lines (X-E4, X100V), and a silver paint job with black dials.
As for my GFX 50R II wishlist, pretty simple:
GFX 50S II specs (IBIS, new processor/jpeg option, usb charging, $4000)
Faster EVF (100-120fps), no top LCD
Slightly bigger front and back control dial
by Jeff
Here's my wishlist for Fujifilm:
-XF 18 f2 (or f1.8) MKII
-XT-40 with same articulated screen as X-T3 (vertical and horizontal)
by Arjun
I wanted to share this design concept for an "X-ProF" which I did last year, right after the X-Pro3 was released. I was inspired to get some ideas out of my head and onto digital paper. To read more about it check out the article at arjunmehta.net
by John
I love my x-pro 2 and found the x-pro3 a non starter. I'm not interested in the T's. I wish they'd release an x-Pro 4 with locking Diopter adjustment. A screw in eyepiece a la the X-pro1 to add diopters to extend the EVF/OVf focus. and for rubber cup. Bigger eye relief, Much Better EVF. 2 magnification OVF with the widest able to accommodate the 16mm lens. Locking shutter speed dial, Locking exposure compensation dial, a tilting screen Much like that on the x100V but with the possibility of flipping it completely over so that there would be no screen on the back if you want. If they did that I'd have my perfect camera. OH and please leave the D Pad.
by Embree & David

Embree: Did you see that Ricoh released a Ricoh GRiiix with a 40mm lens. Wondering what the Fujirumor Community would think of a 40mm equivalent on a X80, should Fuji ever consider making that camera.
David: it's interesting to note how many YouTube reviewers seem to appreciate the 40mm equivalent lens, which pairs well with the previous RICOH GR III 28mm. 28mm and 40mm equivalent lenses, they say, are perfect for many situations, and the 40mm in particular is neither too short (as 35mm) or too long (as 50mm). What do you think about this? Do 28mm and 40mm equivalent lenses make a dynamic duo?

Loading ...
by Zgnhrdt
Here's my wishlist for the X-T5:
A full HDMI (!!) or at least mini HDMI port. The micro is just so flimsy it's very unreliable when filming with a monitor and makes the use of external recorders still miss and hit.
3.5mm headphone port
Removable doors again like the X-T3 how good was that! Why did they kill that?
Improved AF (of course, but nor as important as HDMI
Would be happy with a slightly wider grips still to accommodate
30+ MP sensor would be sweet.
I personally don't need 6k or 8k for my client work
– Oh and the X70 upgrade of course :) Oh wouldn't that be nice! (leave everything as, just high res, faster & better AF, sharper lens maybe f2? .. mmhh)
by Michael
In the new Fujifilm cameras (XH2, XH2S, etc.), Fujifilm should include an option for as-shot 4:3, 4:5, or 6:7 images, visible in the viewfinder, in addition to the 1.5 x 1.0 (standard default), the 1:1 (square), and the 16:9. Fuji provides these options in their medium format mirrorless cameras. Seems they could do the same in their APS-C cameras.
I love the Fujifilm system. But not having the option for in-finder, as-shot 4:3, 4:5, or 6:7 images is leading me to consider Canon and Sony cameras, which provide at least a 4:3 option.
by Aperture Value
I still have an X-Pro1, and also X-Pro3 now, love this camera! It is also the anniversary for Fuji X mount, especially X-Pro1, and it's just a coincidence (or maybe not😉) that by the end of the year it will be 3 years since X-Pro3 was introduced, so supposably, it will be time for X-Pro4 release. The recent chip shortage situation, as well as market overall (not to mention Covid-19) will make it tough, but I hope for the best! Anyway, I was thinking about what X-Pro4 can look and be like, keeping in mind, of course, the purpose of the X-Pro line and people for whom it is created. I will attach the mockups done by me, you can check it out below.
I think they will make the body design more flat with sharper edges, just like X-E4 and X100V, and also hopefully they will improve the build quality since there were some issues with X-Pro3, maybe make more solid top and bottom plates, or even make it unibody. As for performance, X-Pro3 is already good as it is (for what it's built), so I doubt high megapixel sensor or IBIS coming to X-Pro4. However, many think differently😅 I made a whole video about it, and also launched a poll on my YouTube community page, and seems like the most expected feature is IBIS and 40mpx X-H2 sensor. Curiously, these wishes come from same people who find hidden LCD on X-Pro3 a wrong choice. On the other hand, there is an opposite group of X-Pro shooters (including me, I guess) who just wish it to be more Leica-like, more minimalistic with essentials only. I talk about this and more in a video, so check it out if you have time, it would be an honor!