Fujifilm X-H2, X80, GFX100V, X-Pan, Monochrome and More – FR-Readers Wishlist Corner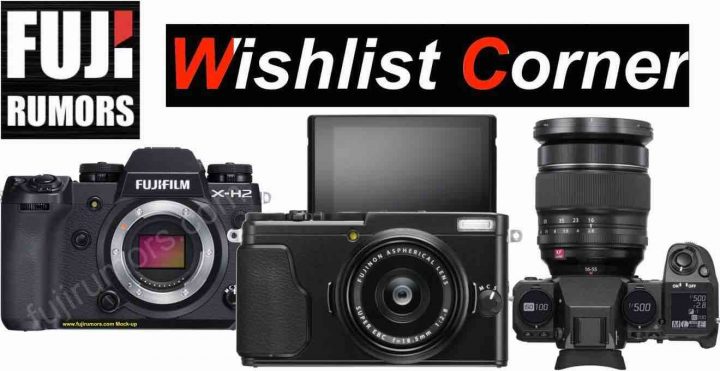 Here is another roundup of wishlist shared by the FR-community to me via email at fujirumor@gmail.com.
Previous Wishlist Episodes:
As opposed to the last episode, this time we focus on camera wishes instead of lens wishes.
In this roundup, one particular and recurrent wish finds me totally agreeing with: the need for a Fujifilm X80!
I do hope Fujifilm will understand that the Fujifilm XF10 was not the X70 successor we were waiting for and that they will finally give us an X80.
I mean, Fujifilm should have been able to overcome these X80 issues by now!!!
Follow FujiRumors: Patreon, Facebook, Instagram, RSS-feed, Youtube, Flipboard and Twitter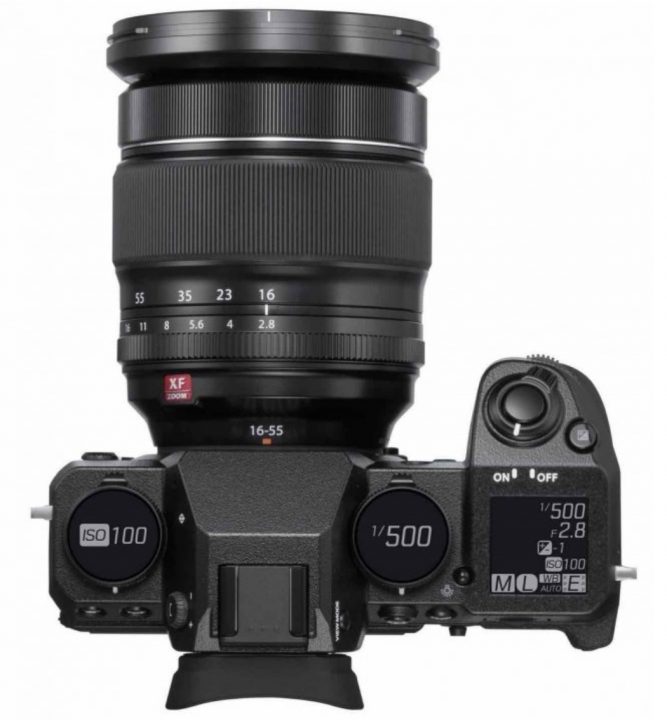 by Gabriel – shared here at the X-T facebook group
If FUJIFILM offered you a personalized camera, anything you wanted, what dials, and buttons, and with what functions would you like to have?
One, two, three, or four or more dials and buttons performing which functions?
Function specific or programmable dials and buttons?
Where would you like the dials and buttons positioned?
How often do you shoot manual?
by Jon
Hi Patrick, considering Fuji is well below in sales of Nikon and Canon, it seems to me they should be making fewer cameras instead of so many.
But getting to my interest in a future camera. Considering I don't do any video, I don't like the compromises Fuji is making. Seems like still photographers are taking a backseat these days.
I would much rather Fuji made one camera just for photographers, some may say that it's already in the pro3. Coming from owning a pro2, I have to disagree.
I dislike the back screen and the removal of the D pad. I do a lot of street photography, nature and architecture. I found that the screen on the X100V was the best so far. The pro3 would interest me a lot more if it would've had this screen and D pad. I ended up buying the X100V and the XT4. Even though I didn't like the screen on the XT4, at least I had access to it without pulling it out and it kept the D pad.
I've heard a lot of people comment that they didn't mind the pulldown screen for the pro3, but they must not do much street photography. I am constantly checking the lighting, my interest in having access to the screen at all times and the D pad to make quick changes. Having a pulldown screen to make changes and no D pad is just extra steps that causes me to miss images.
You can find my work on Instagram: jonleachstreetphotos
So what am I asking for, just a camera that is for photographers and not for video! I would try and contact as many photographers that just to stills as possible, making sure you get the right input and not just the fanboys! Jon
by Alex
Someone already mentioned the X80 but, since the X70 is my favorite Fuji camera – believe it or not – I must say the following:
We are hungry for an X80 but only a new sensor and processor with the much needed faster autofocus it would provide would be a very nice but not a huge improvement. I wish for something else, especially something that could give us more low light capabilities – either an f:2 lens or IBIS. Too bad it would probably impact size and/or price, but we are allowed to dream… BTW, and I see nothing wrong with lens cap.
by Ernst
when I'm on the way with my family and/or friends or hiking in the mountains I mostly use my X70 because of the small form factor and the great quality. Regarding to the last post here is my wishlist for the next Fujifilm X70 (X80):
Same form factor, same focal length
24 or 26 MP X-Trans sensor, 24 MP would possibly be cheaper
Some of the film simulations from X-T2, X-T3, …
(Better) Lens with 2.0 or 2.4 aperture, lens could be a bit bigger, but not too much (just a few mm)
TLC and WLC from X70 should fit on/to the new camera
Firmware should store the RAW's when shooting panoramas (this would be great for the other models too)
Joystick!
Auto-Mode is also great (with RAW's)
No side-articulating screen!
No need for Video, Flash and Touchscreen!
by FractalBuilder
My wish for Fuji, something innovative. A monochrome camera could be really interesting but possibly too niche of a market. Maybe a camera that can be modified using aftermarket parts to be a cooled astro cam but doesn't need to be permanent. Maybe something that can use apps and a smartphone-like UI such as the Galaxy camera phone of a while ago. I've long thought and wished to have a camera with features that are more robust. For example, focus bracketing was a good feature for the Fuji X-T2, but the extra step to get to focus stacking itself was missing. Also, multiple exposure was interesting for the X-T2 but unable to do using RAW files AFAIK.
by Julie
My wishlist for the Fujifilm X-H2 would include:
Keep all the dials as on the XT2, so reinstate exposure compensation dial, reinstate multiple exposure setting, retain metering switch.
keep existing movable screen (i still don't like the flip screen for stills photography – it is impossible to grip the camera properly with my left hand!)
more creative multiple exposures as on XT4.
super fast AF!
improved viewfinder image.
include cable release thread in shutter release button.
any image refinements to make images look less digital, and more film-like.
by Wouter
FujjifilmX-H2 wishlist:
My most essential wish would be a new sensor-size, -type and -resolution only if so that all existing X-mount lenses can be used witgh full potential and best possible quality.
A second but very serious wish would be the ability for the camera to have internet-connection, on-board GPS, Android apps for best Android version and if necessary for these camera-techniques to have and house a GSM-card.
I seriously think that Android-techniques should not be introduced or should be limited to a mere consumer-camera, digital photography should be fully integrated with the techniques that make smart-phones a success.
by Alf
I have one main wish for the X-H2: It needs to be more stable and reliable for video, and without time limit for video recording. I have ended up getting a GH5 for video work in addition to my X-H1 because of this. I sometimes film live events that are longer than 30 minutes, and need to be able to record them without breaks. I also sometimes need to put the camera on a tripod, start recording and trust that it will continue to record without stopping while I do not monitor the camera. With the X-H1, I have several times experienced that the camera stops recording suddenly, sometimes way before it reaches the time limit of 30 minutes. Very annoying. It seems it always stops when the battery grip runs out in one of the batteries and needs to change over to the other one – strange. And sometimes it also stops when all batteries are almost full, it seems this mostly happens with particular settings and focus peaking is turned on. I don't know what happens, as there is no error message, it just stops. Though I suppose it could possibly be overheating? This makes the camera unreliable for video work, and I would not trust it for important jobs. The GH5, on the other hand, just works. I hit record and it will record until I ask it to stop. Just as it should be! However, I much prefer the Fuji for stills, and would love to carry only one camera.
The viewfinder or EVF of the X-H1 is also sometimes very jerky. It happens often when using focus peaking and manual focus, especially when using a magnified window and focus peaking simultaneously (as I often do with macro shooting). This is a less dramatic issue, but still reinforces an impression of a camera that is not stable and reliable in all situations. And that would be my first need in a pro flagship camera. It needs to be a workhorse that you can rely on for work, always.
These issues are a shame, because apart from them I truly love my X-H1, and would have loved to be able to trust it also for serious video work. So, if Fuji releases an X-H2 with unlimited recording time for video, and rock solid stability and reliability, I would definitely upgrade my current cameras at once. If the time limit remains or it is still unreliable, I will probably just keep what I already have (or possibly consider the new Lumix S5, although I would rather stay with Fuji).
And I would also hope for significantly improved battery life (I suppose it will inherit the X-T4 battery, that should fix this) and a fully articulated screen (which is very handy for video).
by Ming
Fujfiilm X-H2:
below 30 megapixels
m43 mode
no crops in 4k/high framerate
ibis
Panasonic S1H screen
Firmware: (xt4/xt3 applicable)
custom modes dial (option to replace shutter/iso/exp comp.)
AF : object tracking
video auto iso value visible (atm it only says "auto" instead of an actual value)
video auto iso "lockable"
optional playback speed on high frame rate footage
smooth af-c transition (like the f2 lens)
timelapse flickering issue (should implement a flat rate of change of exp comp.)
HDR mode (photo & video)
Lens:
close minimum focus distance + great iq at close distance
little to no focus breathing (as oppose to the f2s…)
little to no distortion, vignetting, ca, lens flare (instead of being auto-corrected heavily)
small & compact
by Fred
I'm a big fan of Fuji Rumors, keep up the good work, it's my only every day reading website !
Cheers !
Fred Instagram
(X100T – X100F – Xpro2 – XT2 – XT4)
here my wishlist for next fuji body :
X-Pro 4 : I really want a more still photography oriented camera (I'm a "video specs is useless" guy).
X pro 3 back screen is for me a really good move, I want a body with XT4 battery and a better job on optical viewfinder.
OVF is what makes the X-Pro shine, but the X-pro 3 Ovf is a failure. The 23mm only magnification is a pain as I only use 2 lenses, 16mm and 35mm.
So a X-pro 4, with strong battery life and a OVF with 2 zooms level like X-pro 2 (or even 3 magnifications, up to 56mm will be perfect).
A Lot of Fuji users came from full frame to APS-C for the ergonomics and the "film camera" feel. Aperture ring, speed and iso dials. The Fuji "touch" is real, and stills photographers are not (all of them) dead.
Super Dreamy Wishlist :
Fuji X-Pan : I dream of a panoramic camera like the old TX/XPan
Hasselblad X-pan (reminder : made by fuji) is an incredible camera, and tons of people want it back (for proof, you can see the price of the camera on the market and how it's hard to find a used one).
So I know I'm talking about a utopian science fiction body, but I want a native panoramic camera with 2 aps-c sensor stacks side by side. (for a total of 32 megapixel will be great).
I don't care about video specs (of course), FPS, AF or even multiple lens system.
Just a compact body (little wider than X-Pro is ok), with 47mm x 15,6mm sensor, with one good lens (around 35mm F2), weather sealing and good battery.
Price under 2500€ and I'll be a day one blind buyer !
by Jim
I understand why still photographers feel that the GFX100 is and should only be, suitable for still image capture. I shoot video and stills with 95% emphasis on video. I have been doing it commercially with success for 42+ years.
From a video perspective, here is what I see in the GFX 100. Resolution is over the top. The glass is superior and made for high resolution. The camera is small – yes small, light-weight and perfect for use on gimbals, sliders, drones et al. Fuji, in my opinion, have mastered many looks and color temperatures that are unequaled except for perhaps the Arri Alexa LF which is still a monster-big  camera setup. Surely not for run and gun.
Why doesn't Fuji consider making a model of the GFX100 intended primarily for video? Call it the GFX100V.
Video is not competitive if it is not at least 4K 60p.
4K 90p would deliver slow motion.
Video needs timecode in and out.
Video needs white balance.
Video needs a cheap camera scratch-track mic.
Video needs a stereo audio input with mic preamplifiers.
Video needs to adjust shutter angle.
Video needs an internal ND filter.
Video needs an HDMI out.
Video needs 2 SDI BNC outputs for monitoring.
Video needs USB connectivity.
A 4×3 open gate would accommodate anamorphic lenses.
The camera body is there, the glass is there, the lens mount is there, the EVF is there, sensor is there, white balance is there, audio is there but needs mic pres., and it would need two, short-duration CFast 2 record drives. Primarily, video recording should be on an outboard Atomos recorder that provides a super-brite monitor as well as a recorder.
While I shoot both video and stills, I believe it would be a mistake to continue trying to please both disciplines with one camera. Every video feature makes still shooters angry and conversely, 4K 30p doesn't float the boat for video.
Price? Professional shooters would think nothing of dropping $18K for such a camera. Put me down for two of them. Fuji has plenty of X models for shooters who don't make their living off video and don't have bucks for such a master, world-class camera. Fuji has the warm colorimetry that makes Arri Alexa such a go-to camera for features. It wouldn't be just another video camera. With a 100 MP sensor and the Fuji glass, it would fast become one hot camera setup.
by Jim
My dream is that Fuji would come out with a video version of the GFX100. It would support open gate for anamorphic shooting It would record HDMI out onto an Atomos It would support timecode It would have adjustment for neutral density control It would support 6K 60p Why the GFX for video? That's simple. Consider the enormous sensor. Consider the small size of the camera compared to most video cameras. APS-C is great for travel and recreation but I am a Pro shooter who wants the best in video and still-life. Only Fuji has the Fujifilm color science. The GFX glass is exquisite for Cinema video quality. Pro video shooters would think nothing of stepping up to $15,000 price for a high-end video camera offering. IBIS stabilization is perfect for video.
by Greg
As a portrait photographer, here's my perfect Fujifilm Portrait camera:
It's a similar camera to the X100V BUT:
Built in vertical grip that houses the new battery of the XT4.
The 56mm lens currently available as a fixed prime but, like with the x100V, with an internal ND filter and leaf shutter, making flash shooting at any shutter speed and the ability to lower DOF in bright light simple.
The ability to drop the ISO to 50 as a base to improve bokeh and DOF.
A conversion lens to make the option of a ~135mm focal length possible.
Limited uses- really portraiture, but it would be a light and remarkably flexible tool for that job.
by Pasquet (translated from French)
I was disappointed with the X-T4's display.
I was hoping for an X-H range for videographers (so screen on ball joint), an X-T plus range for photographers (screen on hinge).
The debate is endless between the two types of screens …
My wish is therefore a world first: a Fuji X-T and X-H equipped with a removable frame allowing to fix either a screen on a hinge, or a screen on a ball joint …
I no longer change my equipment and keep my X-T2 and my X-PRO3, I don't like ball-joint screens, which are not very discreet or practical in street photography and reports.
by Frans
Wishes for Fujifilm X-T5:
– RAW for multiple exposure is a must for creative photography!
– integrated grip for better ergonomics.
– integrated Arca-Swiss dovetail in the bottom plate of the body.