Fujinon XF Wildlife Photography Lenses Needed, Base ISO 100, Firmware Wishes and More – FR-Readers Wishlist Corner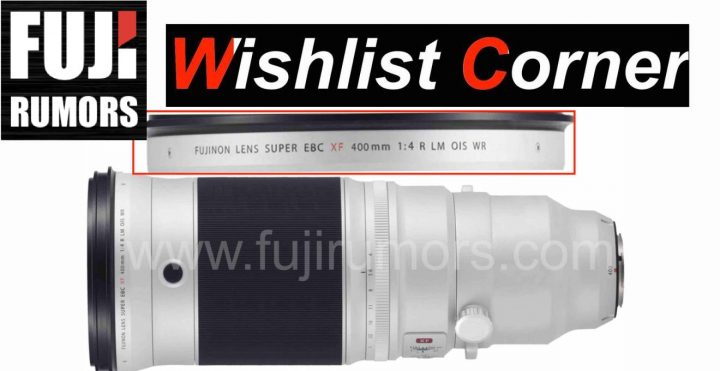 Here is another roundup of wishlist shared by the FR-community to me via email at fujirumor@gmail.com.
Previous Wishlist Episodes:
Because it touches the wish expressed by Michel, Willy and Kenneth, I invite you to check out also our big Fujinon XF wildlife photography survey and other long telephoto primes articles we have previously shared (list below).
Overall, there seems to be a strong wish by the FR-community for longer primes.
But we know the stellar Fujinon XF200mm f/2.0 did not sell well, and hence it's obvious that Fujifilm is now a bit reluctant to invest further in long lenses.
But keep in mind, the XF200mmF2.0 comes with a 1.4x teleconverter designed specifically for this lens, which transforms the XF200mmF2 lens basically in a 280mmF2.8 lens. So, with 1 single lens, here is what you get:
XF 200mmF2.0 = full frame 280mmF2.8 (f/2.8 DOF equivalent)
XF 280mmF2.8 = full frame 420mmF4.2 (f/4.2 DOF equivalent)
If you want to, you can check out our previous "long telephoto primes" related articles.
I also got many wishes regarding future cameras, but since this roundup is already hefty enough, I will share the "camera-wishlist" at a later point.
Follow FujiRumors: Patreon, Facebook, Instagram, RSS-feed, Youtube, Flipboard and Twitter
FR-readers Wishlist Corner
by Michel
1) approx 350mm (eq 500mm) for wildlife photography
2) X30 successor with APS-C for ultralight backpacking
by Willy
I am a wildlife photographer and now i have the X-T4 and the XF200/f2. Very pleased with this combo, but I really need a lighter lens for Birds in flight. I lightweight 200/f2.8 lens (300 mm in full format) would be perfect, like the Canon version. With a 1.4 TC and 2.0 TC, it would cover 300mm/420mm and 600 km. I think Fuji would sell lots of this lens. So please, Let Fuji know that me and many others want this fast and lightweight lens.
And of course I would also like to see the 300/f4 and 500/f5.6 under the Christmas tree some day.
by Kenneth
Currently, I am a Fujifilm user. I have 2 cameras (X-T3 & X-H1) and 9 lenses including a 200mm f/2 and XF100-400. In 2017 I made the change over from Nikon to Fujifilm. I had the following lenses, Nikon 200mm f/2, Nikon 400mm f/2.8 and Nikon 600mm f/4. At that time, I made a bold decision to switch, sold all my Nikon gear. To start, I purchased a used X-T1 with a 35mm lens. Shorty afterwards, I convince two my colleagues to switch from a DSLR system to the Fujifilm mirrorless. Both of them admire the image qualities and the reduce weight of the system.
However, after being with Fujifilm for a year, one of them decided to switch to SONY. Just last week my other colleague made the decision to transfer over to Sony, as well. Main reason, Fujifilm has NO PRIME super telephoto lens beyond 200mm. The three of us are bird photographers and the first guy is a professional commercial photographer. He told me changing to SONY does not matter to him, as long the gear is available for him to make a living.
My wishlist is for Fujifilm to come out with a super telephoto lens (i.e. 400mm f/2.8, 500mm f/4 or 600mm f/4). They desperately need one to keep users. As for me, I will hang in there a little bit longer because I enjoy the product. Like my friend told me, these are "growing pains". I am wondering for how long???
by Rob
I changed over from my Canon 6D three years ago, have owned the X-T20, X-T2 (my current camera), and X-T3 (sold to generate funds for the X-T4 – before the price increase!). The biggest thing I miss is the low light capability of the 6D – is it at all likely that sometime Fuji will improve the sensors they use to start with an ISO at 100 and move up from there?
by Sebastian
My biggest wish is in body timelapse-video!!!!! Like in many Canon-bodies. Than it would be the perfect camera for me.
And one wish to Adobe: I can rate pictures in camera. But Lightroom can't read it out…..for now 4 generations of x-T cameras…..
by Oliver
65×24 / XPAN-Format for the Fujifilm X series (to give us via firmware update)
by Michael
My wish is a weathersealed version of xf 18-55 f2.8-4.
by Aaron
1. An Arca-Swiss style rail molded into the base of the camera. It's a pretty standard mount for tripods and accessories, it would be nice to clamp directly to the body of the camera instead of having to keep a mount screwed into the tripod threads.
2. It would be nice to have a real obvious indicator that an automatic mode has gone as low or as high as it's allowed. If I'm on auto-iso and it's reached the highest ISO allowed my spinning the exposure compensation dial isn't going to help, and it takes me a moment to realize I should change the aperture or shutter speed. Having an arrow or something on the exposure meter indicate that it's gone as far as it's allowed would be helpful.
by Michael
I am a professional photographer with 3 fuji bodies and numerous lenses.
My wish list is very small.
Most important – Eye AF and Tracking to at least match the Sony A7/9 series.
Better low light capability
More dynamic range
Less noise at high ISO
A visible indicator like on the Sony in the EVF when shooting in 100% Silent mode
Same level of IBIS is fine
No need for more megapixels
Not interested in video
by Russ
X-T3 focus function issues in Movie Mode:
I bought X-T3 for filmmaking. I adore the visual quality, the 10 bit codec and Fuji optics but there are real problems for me with the implementation with the focus functions in 'Movie Mode' as detailed below. I need a compact camera for verité style documentary shooting and need to be able to switch between getting an quick "instantaneous" focus and manual focus operation to finesse the shot. Please have a look, sorry for the length.
– I have the AF-L/Fn button set to "AF-ON" to use as a back focus button. When in Movie Mode and using the camera in manual "M" focus mode I press the AF-L button for back focus function and it's disabled. The "AF-ON" function when shooting in a stills mode when in manual focus isn't disabled, why should it be in Movie Mode? I need to take an instantaneous focus momentarily in manual focus mode while recording a movie as I can with Lumix GH cameras.
– When in Movie Mode and in AF-S and the SHUTTER AF setting is "off" in the BUTTON/DIAL menu, the camera does an instant AF regardless when the Shutter Button is pressed. Maddening for a filmmaker when you've set focus before starting to record a shot. It works properly when in a stills mode, why not in Movie Mode? I should also be able to manually focus the lens if needed, but it's disabled when switched to AF-S.
The auto focus accuracy with the X-T3 is far better than with Lumix GH cameras. I think many filmmakers would welcome these changes and I don't think it would inconvenience other users. It seems as though it would be possible to make these changes with a firmware update. These changes should also be implemented for other X cameras, in particular, important for the X-H2 which I'm really looking forward to.
by Ashit
– Ability to save custom video frame rates in the quick menu
Something that will allow us to quickly switch between 4k24, 4k60 and FHD120
– In camera video timelapse (something that all other camera manufacturers support)
– 180 degree shutter angle setting
This way in video mode one does not need to manually adjust the shutter speed when
one switches video frame rates
by Satish
I am an ex-Nikonian landscape/architecture guy. Not a professional photographer, I end up hiking/walking for most of my photographs thus I am always investing in light weight gear possible.
I currently own X-E3 with 8-16, 18-55, 55-200 and 23 f/2 WR. Though I am mostly a landscape guy, I do venture into portraits genre sometimes with the 23 and 55-200.
Considering this background, following is my wish list for Fujifilm.
1. Built in arca swiss compatible grooves (for vertical and horizontal orientations) on the camera body itself, so that I dont need to wait for months together for some third party company to come up with a properly designed L bracket.
OR
Manufacture and release the required L bracket along with camera itself. Make it an optional purchase.
2. IBIS version of X-E3, for added advantage in architecture shoots where tripods are not allowed
3. 16 bit RAW support
4. Built-in 4×5 and 6×7 aspect ratio support
5. A perspective control 16/18mm f/3.5 shift lens (no tilt needed), similar to old 28mm f/3.5 PC Nikkor shift lens
6. Micro Four Thirds mode (2x) with 12MP megapixels image, in order to at least get those shots where existing focal length is sometimes not enough
by Emilio Dati

To speed up the management of the numerous menus present in the Fuji camera models, wouldn't it be appropriate for the Fuji company to create an ad hoc software?
Such a program could allow you to:
1) have a file with the standard menu settings to load on the computer;
2) modify the menus more easily according to personal needs with the monitor view;
3) finally save the file to load it directly into the camera.
A program that would prevent us from always having the camera at hand while reading the "book" of instructions (with the pages that do not remain open) or while reading the instructions on the screen after downloading the relative PDF of the manual.
A first step seems to have been done with X Aquire, we should go on, what do you think?
by Alex
The XF lenses in a square format, like the SQ1, support full quality at 4800×4800 at 24Mp equivalent and over 5600×5600 at 32Mp – let's put some pressure on Fujifilm to think outside the box – I crop to squares a lot and find it to be a very and satisfying media format.
by John
I currently have an XT-20 (which I like the size and weight) with the 18-55 lens and the 55-200 lens.
My wish is for faster and better autofocus, particularly in lower light situations, such as late day soccer games or taking photos of hummingbirds latter in the day.
I don't need IBIS since my lens already have it.
I would like to be able to specify a distance for which the autofocus should concentrate. For example, I take photos of hummingbirds from about 25 feet. They are small, and even with single spot focus, given their fast movement, the camera wants to focus on the distant trees. I would like to say don't focus beyond 30 feet, in my example. I have found it is necessary to focus manually to get good photos. The problem with zone or wide tracking is the hummingbird is within flowers, so at 200 mm and f4.5, the dof is too narrow. Hence manually I use f8.0 or higher and at most 100 mm and then crop.
For soccer games, there are lots of players. I end up using single spot focusing so I can focus on the person I want to emphasize. I would like to have tracking for that person then work once I depress the shutter button half way. A touch sensitive screen will not help since I shoot looking through the viewfinder.
Most important, I picked Fujifilm for a number of reasons:
Size and cost – if I wanted a bigger unit, I would have bought a Canon. The XT-4 is too big. I like the size of the XT-20.
Ease of changing settings, such as the aperature ring on the XF lens
Their reputation for service – I bought the Fujifilm when I was having a terrible time getting my Sony camera fixed by Sony under warranty. Now 95% of my photos are taken on the XT-20 and the Sony sits not used.
Also, I am not interested in a pixel race. The XT-20 megapixels is perfect for getting photos for which I can reasonably crop ( a little more might help), but just as important not so large as to overwhelm the DASD on my laptop.
by jmm
It's probably a bug, don't know if this has been reported or happened to anyone else. Just a couple of days ago I was photographing a wedding and today I was curious about the shutter count on my X-T3 so I checked it on apotelyt.com (the only website I've found that counts the shutter actuations).
I was surprised to see that the number was lower than the number of pictures I took on that day so I went back until I finally found it – the camera took one picture (showing 32766 shutter actuations) and then the next one showing only 1 shutter actuation. I tried to find a way to get in touch directly with Fuji to report what might be a bug but the only page I found was FujiRumor's. Instead of adding this to a comment that might be lost I thought about writing an e-mail to you – as I think this is somehow important! It might happen that someone buys a used camera thinking it has a low shutter count when in fact it might be very high!