Fujicast Interview with Fujifilm Manager: Talking Breakthrough Fujifilm X-H2, X-E4 the Last 26 MP (?), Open Lens Protocols, X80 and More!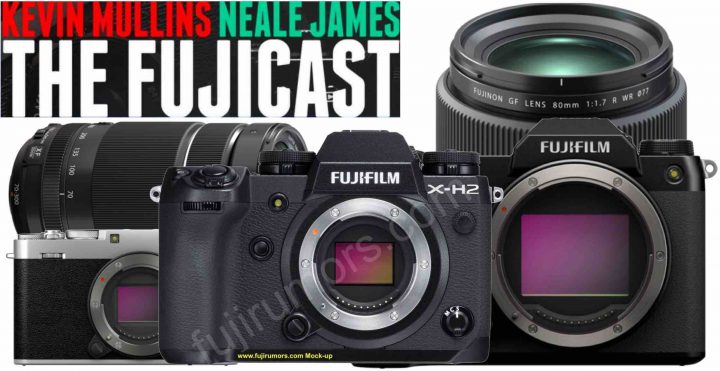 The latest Fujicast episode is now online, covering all the current Fujifilm announcements with Fujifilm's UK Marketing Manager, Andreas Georghiades (GFX100S, GF80mmF1.7, X-E4, XF70-300mm and XF27mmMKII.
But as there is a podcast listener question corner, you can figure out that many questions gravitate towards future Fujifilm products and more. So they touch on Fujifilm X-H2, the open lens protocols, the X80 and more.
Kevin Mullins also speculates that the X-E4 might be the last X series camera featuring the 26MP X-Trans sensor and the manager says that there is indeed not much left to update with the 26MP sensor.
However, nobody knows what the first camera with a new sensor will be. There is still an X-T40 waiting to see the light of the day for example, which is such a loved line, that Fujifilm should definitely continue it in my opinion.
Down below you can find the full podcast as well as a summary:
Summary + Podcast
due to lockdown, Fujifilm could not make workshops, events etc.
Fujifilm has to rethink how to do things such as engaging more on social media, videos, etc
X-E4, an attempt to make an interchangeable lens X100V. Clean lines. But no hybrid EVF
XF27mmF2.8 R WR has slightly smaller focus ring compared to the original 27mm, but it has an aperture ring
XF70-300 will be high up on shopping list for many. Very affordable.
X100V gets firmware that allows for ND-filter to use with video, hybrid viewfinder tweaks, you can use build in teleconverter now with RAW
X-Pro3 miner tweaks
X-T30 webcam software
GFX100S is slightly smaller than GFX50S. Can be seen as an upgrade to the GFX50S, or a downsize of the GFX100.
GFX100S is a huge deal for Fujifilm, available from March
GF80mmF1.7 is a stunning portrait lens, superlative bokeh
GFX100S reinvigorates the range, and everybody starts taking about the GFX system again
Questions to Andreas Georghiades
Fujifilm X-H2: The manager said that the Japanese Managment publicly said in April there will be an X-H2, but they are waiting for a leap in technology
If you read between the lines, this means it needs a new sensor and processor
he can't say when it comes out, but Fujifilm Japan has publicly confirmed the X-H2
Kevin Mullins says the Fujifilm X-E4 is probably the last X series camera with the 26MP sensor
Fujifilm has pretty much refreshed all cameras with the 26MP camera
What the next camera with new sensor will be and when it will come, they do not know
Firmware Updates: Many factors play a role on which firmware updates come. It's ultimately a commercial decision as well as a physical time decision in terms of engineers and what they have.
It's not that Fujifilm says "Ok, this product has a 3 years cycle and every year they will deliver an update". They often do not know ahead how many updates a camera will get. X-T3 got a huge update after 1 year, putting the new stuff of the X-Pro3 in the X-T3. Than later the X-T4 came with better AF, and the engineers put that also on the X-T3. But how long will the X-T3 be sold for, etc, and hence at some point they also have to make a commercial decision, and sell cameras.
It's not simple when it comes to firmware, many factors come into play.
X100V will get firmware for using ND filter also in video. This is feedback customer requested
X80: Kevin and the Manager would love one. Kevin says it's a niche camera. The manager says the X70 did not sell well. Launched on the same day, the X-Pro2 came out with a new sensor. There was also an earthquake at that time destroying sensor factory, and Fujifilm has to prioritize, and they prioritize use the sensors for X-T1 and X100T.
Over time, though, people started to appreciate the X70 more. The X70 was a bit of a flop, but the X80 with a good timing could face better faith.
Made in Japan: X-T2 is made in Japan, and X-T3 is made in China. Both are Fujifilm factories with same quality standards, both cameras use parts coming from different parts of the world. This made in Japan aura is a bit of an old wives' tale. Maybe 20 years ago there was a difference. But your smartphone is probably made in China, too. Made in Japan is nice to have, but does not make a tangible difference
Update older lenses: The manager can't discuss any eventual plans. The XF10-24 and XF27 have both been updated and renewed. So Fujifilm is renewing lenses. But what eventually might or might not happen in future, he can't say
Open X and GFX Lens protocols for Third Party: The manager believes that lens protocols are being shared with companies that request it (with Fujifilm Japan already said back in 2020). But Fujifilm does not know if and what other lenses other companies might make. Other companies don't tell it Fujifilm.
When a camera gains popularity, more adapters are made for that camera. The number of GFX adapters has almost passed the number of adapters for the X series. Once manufacturers notice the popularity of adapters, they start looking in making directly native lenses for that system
That was the summary of the part with the Fujifilm Manager. For the full Fujicast, you can play the podcast in the link down below
Follow FujiRumors: Facebook, Flipboard, Instagram, RSS-feed, Youtube and Twitte