Fujifilm 2019 Camera and Lens Release Timeline (and a bit of 2020)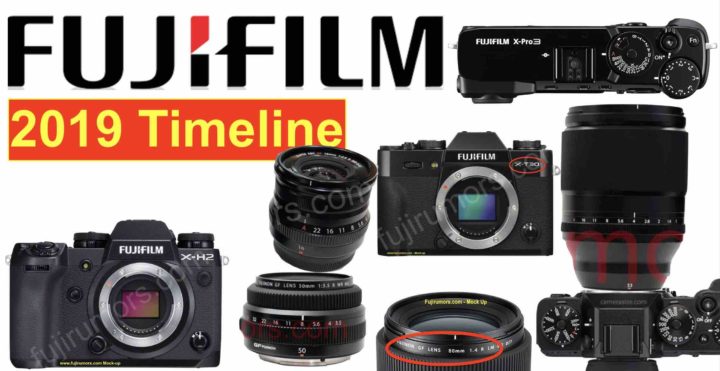 Fujifilm 2019 Timeline
It's time to put some order in the myriad of rumors, and give you guys a timeline of the Fujifilm products that will come in 2019, as well as give a quick glance at 2020.
This is just an approximate timeline, that I will update as soon as I get new information.
January/April 2019

Fujifilm X-T30*
Fujinon XF16mm f/2.8 R WR*
Fujinon GF 100-200mm f/5.6 R LM OIS WR*
* based on our rumors
May/August 2019

Fujinon GFX100*
Fujinon XF16-80mm  f/4 R LM OIS WR**
Fujinon GF 50mm f/3.5 LM WR***
* based on our rumors
** our sources say XF 16-80 will not come in early 2019
*** just an educated guess by FujiRumors, but it could make sense to announce it along with Fujifilm GFX100

September/December 2019
Fujifilm X-Pro3*
Fujifilm X100F Successor*
* based on reports at techardar. I place them in the second half of 2019, because I do not think their release is imminent (if techradar is right about 2019 release)
Top Possible Bonus Gear in 2019/2020
Fujinon GF 80mm f/1.4 R LM WR*
Fujifilm X80**
older XF lenses refresh***
*based on rumor
** wishful thinking based on XF10 disappointment :)
*** no rumors. but please, FUJI, PLEASE!!!
Coming 2020
Fujifilm X-H2*
Fujinon XF33mm f/1.0 R LM WR**
Fujinon GF 45-100mm f/4 R LM OIS WR**
* our sources say it will not be released in 2019, hence must be sometimes in 2020, since I don't think Fuji will wait until 2021
** based on official Fujifilm roadmap
Probably Not Coming in 2019/2020
TOP DEALS
Follow FR on Facebook, Instagram, RSS-feed and Twitter
Our Owners Groups
Our Facebook Pages