Fujifilm GFX100 Has Two Joysticks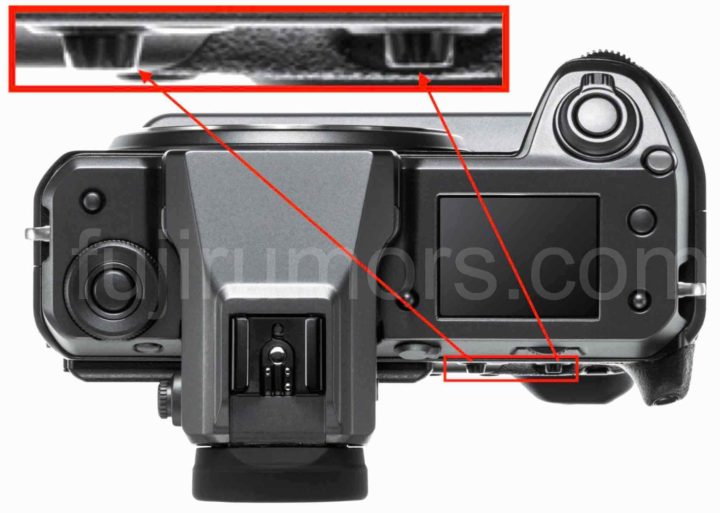 Fujifilm GFX100
When I was at Photokina, Fujifilm was very attentive not to display the Fujifilm GFX100S from the backside. And also the images they published on the web so far don't show the backside of the camera.
However, I took a close look at the images we have so far, and I noticed that there are two joysticks at the back of the camera (see top image). Other cameras with integrated battery grip, such as the Nikon D5 and the Canon 1Dx MK II, also have two joysticks. And also Fuji's own vertical grips for X series cameras offer an additional joystick.
Down below more leaked Fujifilm GFX100 specs… definitely more exciting than today's one ;).
Recently we also compared the size of the Fujifilm GFX100 with several other cameras, including the Sony A7III and many more. Check out the comparisons here.
Fujifilm GFX 50R: BHphoto, Adorama, AmazonUS
Fujifilm GFX 50S: BHphoto, Adorama, AmazonUS
Follow FR on Facebook, Instagram, RSS-feed and Twitter
RUMOR, NEWS and COMMUNITY
Fujifilm GFX 100
100 Megapixel BSI IMX461 sensor
Sensor already used by Phase One here
More expensive than Fujifilm GFX 50S. Price not final, but could be about as much as Hasselbald X1D
Available in 2019
Final Announcement 2nd Quarter 2019
4K video 4:2:0 10 bit internal and 4:2:2 via HDMI
no crop at 4K @ 30p
full sensor phase detection coverage
around $10,000 – Fuji US manager said $9,995
X Processor 4
two joysticks
resistant to up to -10°C
IBIS
Fujifilm GFX 100 size comparison vs Fujifilm GFX 50R and Canon, Sony, Nikon cameras