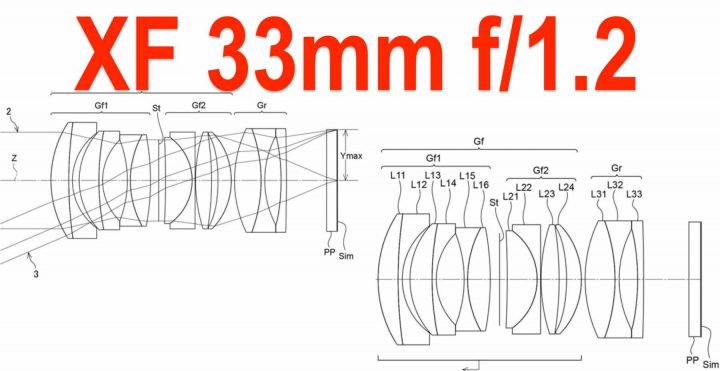 Once upon a time, Fujifilm planed to make a Fujinon XF33mmF1.0, which they then scraped in favor of the smaller Fujinon XF50mm F1.0.
What we got instead, is the highly praised Fujinon XF33mmF1.4.
But it looks like at some point Fujifilm also played with the idea to make a Fujinon XF33mmF1.2, as such a patent has now been surfaced in Japanese language (down below the translated version) at IP force and found by Digicame-info.
I doubt Fujifilm will now also give us a Fujinon XF33mmF1.2, but let us know in the comments if you'd want one.
Applicant: FUJIFILM Corporation
Publication number: P2022128205
Application number: P 2021026602
Publication date: 2022-09-01 Title
of the invention: Imaging lens and imaging device
An imaging lens configured to be compact and having good optical performance, and an imaging apparatus equipped with this imaging lens are provided.

2. Description of the Related Art In recent years, there has been a demand for an imaging lens that is compact and has good optical performance.

The present disclosure has been made in view of the circumstances described above, and an object thereof is to provide an imaging lens that is compact and has good optical performance, and an imaging apparatus that includes this imaging lens.
Example 1 (33mm F1.2)
Focal length 33.98
Back focus 13.14
F value 1.24
Total angle of view 47.6
Maximum image height 14.45