TESTED: Sirui 1.25x Anamorphic Adapter on Fujifilm X-H2 and XF33mm f/1.4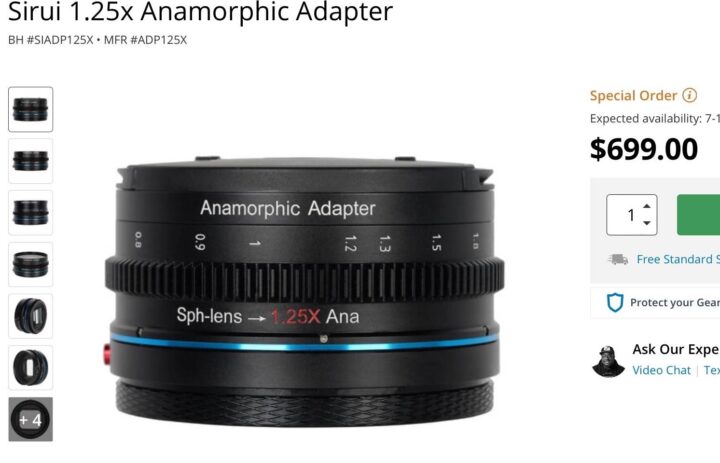 Let's catch up with a piece of gear that I can't remember I have ever talked about: the Sirui 1.25x Anamorphic Adapter.
As far as I can see it is available at Amazon since October 2022, but the Japanese guys at Mapcamera, who have now shared a test of the adapter on a Fujifilm X-H2 with XF33mmF1.4 lens, say that it will be available only this month.
Anyways, it's something I have not talked about so far, so here is how it works.
The Sirui 1.25x Anamorphic Adapter has a 82mm rear thread and in case of the Fujinon XF33mm f/1.4 with its 58mm filter size you'll need to attach the adapter to the front of the lens using a 58 to 82 step-up ring.
Done that, if the lens flares do not appear horizontal, you can overlay the gridlines on the camera screen, push the red button, and fine-tune the adapter until the flares become horizontal. You can see installation instructions at the dedicated Sirui page here).
Now your Fujinon lens is changed to an anamorphic lens aspect ratio.
Mapcamera says that the color characteristics of the Fujinon lens are not changed, so you can still enjoy the original Fujifilm film simulation look with the adapter attached.
Also not present is the peculiar anamorphic flare that we know also from other Sirui anamorphic lenses.
What Mapcamera noticed, though, is a slight decrease in contrast.
They conclude [google translated]:
It is a convenient adapter where you can enjoy cinematic videos with many lenses. It is a special adapter for those who shoot videos with gimbals because the weight is lighter than using ananamorphic lens.
You can read their full first look and see some samples at Mapcamera.