Which Older Fujinon X Mount Lenses Should Fujifilm Update Next? POLL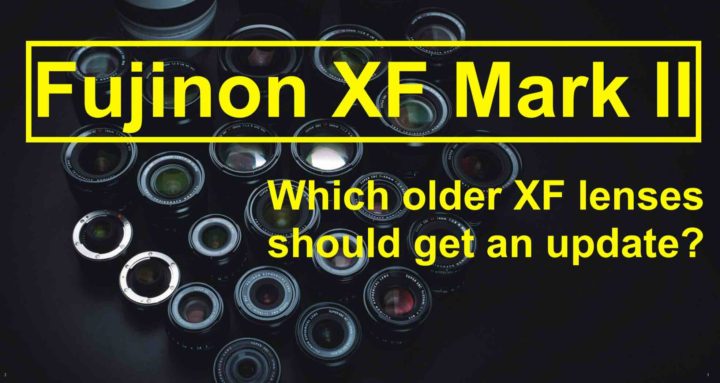 Fujinon XF Mark II
About 2 years ago, I asked you guys which APS-C lenses Fujifilm should make next.
Your response was overwhelming, and you recommended thousands of lenses. I meticulously collected all your suggestions, and made a 30 lenses poll out of them.
The rest is history: as you can see from the results here, you guys vote the XF33mmF1.0 followed by the XF16-80mmF4 as your most wanted lenses, which are exactly the lenses Fujifilm recently added to their X mount roadmap.
Today I'd launch another poll.
This time it's not about completely new lenses, but about which "older" Fujinon lenses Fujifilm should update.
What does "update" mean?
Mainly it means:
I debated if I should include the XF16-55mmF2.8 and XF90mmF2, which I know many would like to have OIS. But I decided not to include them, since the workaround is to use Fujifilm X-H1 and future Fujifilm X-H2 with IBIS. And who knows if down the road there will be more IBIS camera bodies. Check out the Fujifilm X Camera replacement timeline here.
I will be very cruel to you guys and give you only 1 option to vote :)
Happy voting… and may Fujifilm listen also this time.
Follow FR on Facebook, Instagram, RSS-feed and Twitter
FEED YOUR FUJI ADDICTION AT:
Our Owners Groups
Our Facebook Pages

Loading ...
ENDING VERY SOON
Fujinon Prime Lenses
XF 14mmF2.8 (save $150): BHphoto, AmazonUS, Adorama, FocusCamera
XF 16mmF1.4 WR (save $150): BHphoto, AmazonUS, Adorama
XF 18mmF2 (save $50): BHphoto, AmazonUS, Adorama, FocusCamera
XF 23mmF1.4 (save $100): BHphoto, AmazonUS, Adorama, FocusCamera
XF 23mmF2 WR (save $50): BHphoto, Adorama, AmazonUS
XF 27mmF2.8 (save $50): BHphoto, AmazonUS, Adorama, FocusCamera
XF 35mmF1.4 (save $50): BHphoto, AmazonUS, Adorama, FocusCamera
XF 35mmF2 WR (save $50): BHphoto, AmazonUS, Adorama, FocusCamera
XF 50mmF2 WR (save $50): BHphoto, Adorama, AmazonUS
XF 56mmF1.2 APD (save $150): BHphoto, AmazonUS, Adorama, FocusCamera
XF 56mmF1.2 (save $100): BHphoto, AmazonUS, Adorama, FocusCamera
XF 60mmF2.4 (save $50): BHphoto, AmazonUS, Adorama, FocusCamera
XF 80mmF2.8 OIS WR (save $150): BHphoto, AmazonUS, Adorama, FocusCamera
XF 90mmF2 WR (save $150): BHphoto, AmazonUS, Adorama, FocusCamera
Fujinon Zoom Lenses
XF 10-24mmF4 OIS (save $150): BHphoto, AmazonUS, Adorama, FocusCamera
XF 16-55mmF2.8 WR (save $200): BHphoto, AmazonUS, Adorama, FocusCamera
XF 18-55mmF2.8-4 OIS (save $100): BHphoto, AmazonUS, Adorama, FocusCamera
XF 18-135mmF3.5-5.6 OIS WR (save $100): BHphoto, AmazonUS, Adorama, FocusCamera
XF 50-140mmF2.8 OIS WR with Teleconverters option (save $200): BHphoto, AmazonUS, Adorama, FocusCamera
XF 55-200mmF3.5-4.8 OIS (save $100): BHphoto, AmazonUS, Adorama, FocusCamera
XF 100-400mmF4.5-5.6 OIS WR with Teleconverters option (save $300): BHphoto, AmazonUS, Adorama