Fujinon XF 33mm F1.0 vs XF 35mm F1.4 vs XF 35mm F2 – SIZE COMPARISON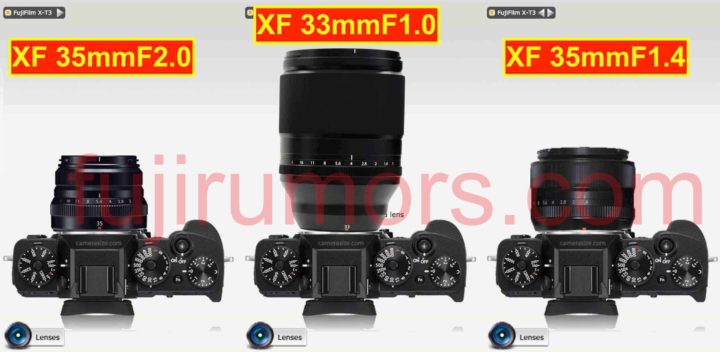 Fujinon XF33mmF1.0 vs XF35mmF1.4 vs XF35mmF2
As you know, I have been to photokina 2018, and I also have delivered you the worldwide first real life images of the XF33mmF1.0, XF16mmF2.8 and XF16-80mmF4 lenses, as well as a side by side comparison of the 3 new lenses on Fuji's roadmap.
However, I keep up getting questions about how big the XF 33mm F1.0 is, compared to its little brothers, the XF 35mm F1.4 and XF 35mm F2 WR.
So based on the images I took and what I have seen with my own eyes at the Photokina Fujifilm booth, I try to give you a visual representation of how Fuji's 50mm equivalent trinity compares side by side mounted on a Fujifilm X-T3.
Of course this can't be super-accurate, and I'd say it's 85+% close to perfection. However, the Fujinon XF 33mm F1.0 will hit the market in 2020, and until there, the final size can change.
In an earlier post on FujiRumors, we launched a huge poll, asking you guys if you consider the Fujinon XF33mmF1.0 is too big for you. 7,500 people voted already, and you can check the results here.
We also launched XF33mmF1.0 feature polls in the past, that you can check out here.
And speaking of 35mm lenses…
Just yesterday, we have launched a poll on which "older" Fujinon lens Fujifilm should update next. Almost 7,000 of you guy already voted here, and the winner was the Fujinon XF35mmF1.4. To see the full ranking, click here. So, the lens, that already has the strongest internal competition in terms of focal length (XF35mmF1.0 and XF35mmF2), wins.
Follow FujiRumors on Facebook, Instagram, RSS-feed and Twitter
Fujifilm X-T3: BHphoto, AmazonUS, Adorama, Focuscamera
XF 35mmF1.4: BHphoto, AmazonUS, Adorama, FocusCamera
XF 35mmF2 WR: BHphoto, AmazonUS, Adorama, FocusCamera
Our Owners Groups
Our Facebook Pages