Fujinon XF33mm F1.0 R WR: Clutch Focus? Price? AF-speed? and More – Multiple POLLS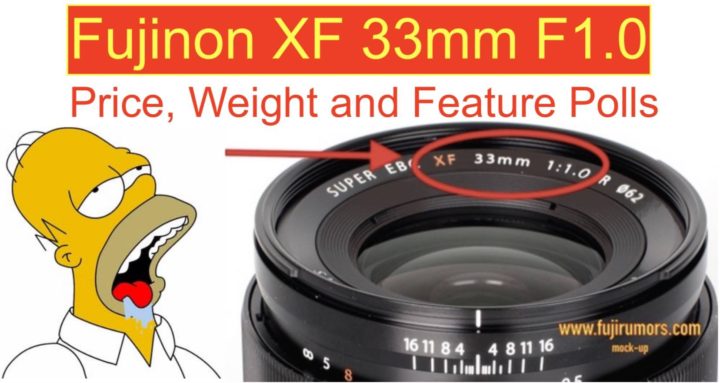 Fujinon XF 33mm F1.0
We have pressed Fujifilm to give us the XF33mmF1.0 R WR, and Fujifilm listened: the dream lens of many X shooters will hit the market earliest 1.5 years from now, in 2020.
According to a recent poll we launched, 72% of FujiRumors readers are "interested" to buy this lens. 13% don't know and only 15% are not interested at all.
But…
… after I launched the poll, fellow FR-reader Jan contacted me and wrote:
"I would like to suggest a poll that takes up your idea how to help Fuji in making the XF33 a great success. I love the idea of a XF33 1.0 lens. Still there are some limits in price, weight and focus speed, that will determine for me if I will buy the XF33. So here's my suggestion: Can you ask the Fuji community how likely they will buy the XF33 given the following specs [polls below]
My feeling is that there are many unrealistic expectations towards this dream lens and your poll could give Fujifilm a good idea about what the community is willing to accept in order to get one additional stop. […] Your poll may guide Fujifilm the right way and may help them to estimate the potential market."
Why not? Let's do it.
I will also add a few options, like
would like an XF33mm F1.0 with clutch focus mechanism?
Autofocus speed on the XF33mmF1.0 (the 33/1 will be "world's first mirrorless lens with F1.0 maximum aperture and AF capability")
Cost saving and renounce on weather sealing?
OIS anyone?
Keep in mind that, as disclosed on the roadmap, at the current development stage, the Fujinon XF 33mm F1.0 R WR will be weather resistant, have an aperture ring and don't have OIS.
Happy voting  :)
Do not forget to follow FujiRumors on Facebook, RSS-feed, Instagram, Youtube and Twitter.
PRICE POLLS

Loading ...
_ _ _

Loading ...
_ _ _

Loading ...
_ _ _
WEIGHT POLLS

Loading ...
_ _ _

Loading ...
_ _ _

Loading ...
_ _ _

Loading ...
_ _ _
AF SPEED

Loading ...
_ _ _

Loading ...
_ _ _

Loading ...
_ _ _

Loading ...
_ _ _
FEATURES

Loading ...
_ _ _

Loading ...
_ _ _

Loading ...