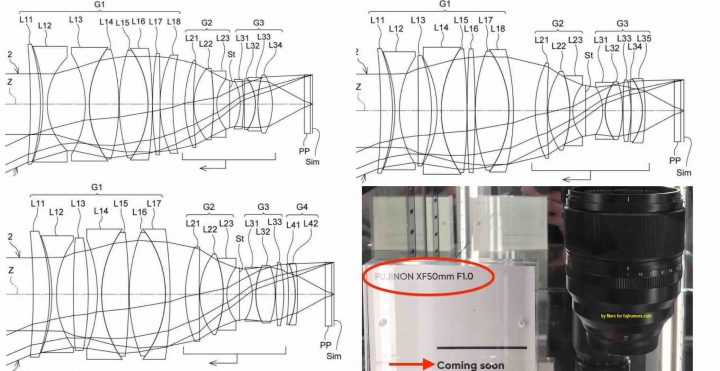 Finally, 5+ years after our original Fujinon XF33mmF1.0 rumor, the patent for that lens has now been spotted by hi-lows-note.blog (via j-platpat.inpit.go.jp).
And not only that!
It looks like Fujifilm looked into slightly different variations of that super-fast lens, more precisely:
XF35mmF1.0
Focal length: 34.686 mm
F number: 1.03
Angle of view: 45.4
XF30mmF1.0
Focal length: 30.369 mm
F number: 1.03
Angle of view: 51.0
XF33mmF1.0
Focal length: 33.489 mm
F number: 1.03
Angle of view: 46.8
As you know, back in 2018 Fujifilm officially added the Fujinon XF33mmF1.0 to the lens roadmap, but later on in 2019, Fujifilm officially canceled plans for the Fujinon XF33mmF1.0 in favor of the Fujinon XF50mmF1.0 for the reasons we already elaborated in this article.
As we could see in a live stream youtube video we reported about here, the Fujinon XF50mmF1.0 is out for Beta testing, meaning Fujifilm will be able to respect the original timeline, hence be able to release this lens within 2020.
From the first sample visible during the live stream, I can confidently say that an impressive lens is coming our way.
If it was really more needed than a Fujinon XF33mmF1.0, given the fact that we already have (and I personally own), the stunning Fujinon XF56mmF1.2, that's up to you to decide.
For sure, the Fujinon XF50mmF1.0 will incorporate the smoothest and best autofocus, it will be weather sealed, hence addressing two of the major complaints with the XF56mmF1.2.
Plus, the XF50mmF1.0 will be priced surprisingly well, and this is why I believe, that Fujifilm is about to drop a real winner.