RUMOR: Fujinon XF 50mm f/1.0 Coming 2020 for Around $1,500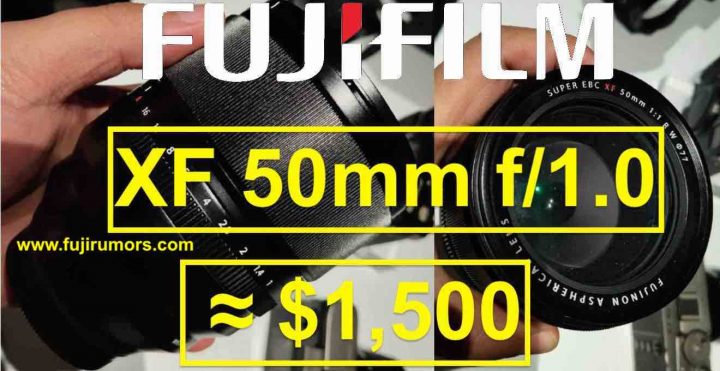 I have received word (thanks), that the price of the Fujinon XF50mm f/1.0 should be about $1,500.
Of course the price is one of those things, Fujifilm can change until just a few days before official launch, so take it with a grain of salt for now. But the fact I share it today, means I got multiple confirmation that Fujifilm is targeting that price.
Curiosity: just recently a fellow X-T group member here, asked people how much they think the XF50mmF1.0 will cost. Lots of people guessed a price around $2,000. So for many the rumored price tag will come as a pleasant surprise.
As Fujifilm managers said in various interviews (such as here), the Fujinon XF50mmF1.0 will come in 2020.
In previous coverage about the XF50mmF1.0, such as in this dedicated XF50mmF1.0 article, we got some initial specs:
weight under 1 kilo
minimum aperture f/16
77 mm filter size
more beautiful bokeh than the XF56mm f/1.2
first autofocus demo (contrast AF only) at minute 43:07 in the live stream video
the final lens will of course support also PDAF
Back in February, Fujifilm managers officially said there will be 4 new lenses within the next 12 months, and thanks to our sources we know that they will be:
Follow FujiRumors on Patreon, Facebook, Instagram, RSS-feed, Youtube, Flipboard and Twitter
Our Owners Groups
Our Facebook Pages