RUMOR: New Fujinon X Mount Lens Roadmap with One Prime and One Zoom Mark II Lens – Vote Your Favorite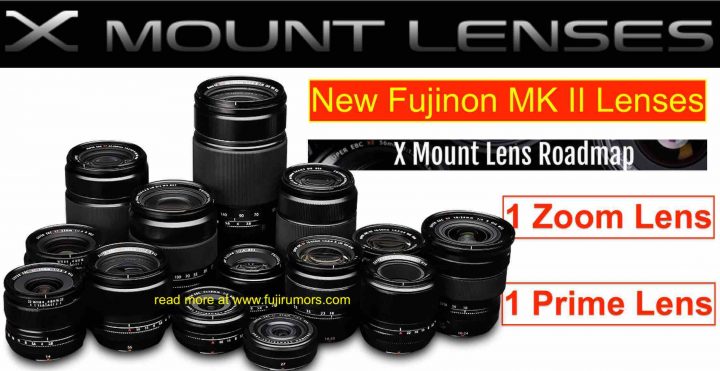 A Fujifilm manager told us back in February, there will be 4 Fujinon X mount lenses coming in the next 12 months (meaning latest within February/March).
FujiRumors already told you that those would be the Fujinon XF 50mm f/1.0, the Fujinon XF 70-300mm f/4-5.6 and two Fujinon X mount MK II Lenses.
And to be more specific, there will be one X mount prime MK II lens and one X mount zoom MK II lens.
So the recap:
Fujinon X mount prime MK II Lens
Fujinon X mount zoom MK II Lens
Down below you can find two survey, where I include all older lenses. Well, not really all. I decided to focus on those, that are not weather sealed and I only included XF lenses (not XC lenses).
The FujiRumors picks?
In terms of primes, I own 4 or 6 primes listed below. From those four, the one I desire most is an XF27mmF2.8 MK II with aperture ring (weather sealing not so important in my case).
Why not refresh the magical XF35mm f/1.4? Well, first off, already in February 2019, I wrote a post, where I argued why they should not refresh that lens. In addition to the reasons given there, I add that there are lots of 35mm lenses already out there, and now that also the Viltrox 33mm f/1.4 AF lens hit the market, I don't see any urgency to refresh it.
Also, after Fujifilm axed the Fujinon XF33mm f/1.0 in favor of the Fujinon XF50mm f/1.0, what I really want now is an XF35mm f/1.2.
In terms of zooms, I own all three in the list below. They all are in need of a refresh, and I have a favorite MK II candidate also in this case. But I won't say anything here and just see what you guys vote down below.
Join FujiRumors on Patreon, Facebook, Instagram, RSS-feed, Youtube, Flipboard and Twitter

Loading ...
_ _ _

Loading ...