Fujinon XF50mm f/1.0 Available by the End of 2020: Fastest Autofocus Lens in Production Bokeh Sample and New Product Images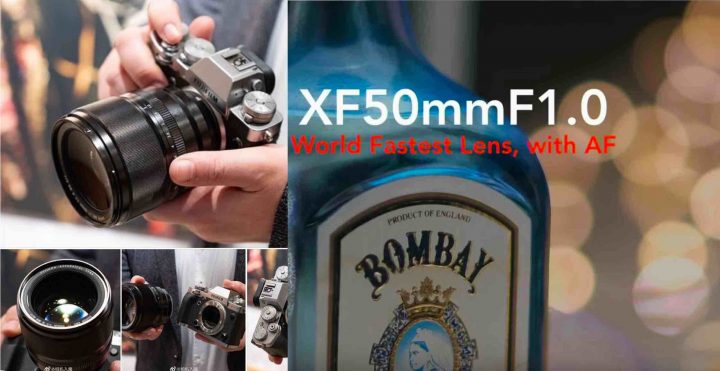 One of the most anticipated lenses, coming for Fujifilm X mount, is surely the Fujinon XF50mm f/1.0.
At the recent Fujifilm X Summit, Fujifilm showed us a working sample including an autofocus demo at minute 43:07 in the live stream video, but that works with CDAF only. The final version will support PDAF.
But even with CDAF only, the live demo showed a rather confident focusing lens.
Fujifilm also showed a sample image of the bokeh, and you can find the screenshot of it down below.
They also disclosed some details:
XF 50mm f/1.0 is coming this year
more beautiful bokeh than the XF56mm f/1.2
XF50mm f/1.0 rear lenses work for autofocus
they show a protoype, which currently works only in contrast AF
77 mm filter size
Also, the folks at digitalcameraworld had a post launch private meeting with Fujifilm, where they could handle the Fujinon XF50mm f/1.0, and they have been told:
The 50mm f/1.0 will not just one of the fastest lenses ever, but will be THE fastest autofocus lens in production. It will also share the record as the fastest autofocus lens ever with the legendary Canon EF 50mm f/1.0 L USM lens which was produced for film SLRs during the 1990s.

this innovative prime will be available to buy by then end of the year.
Also, dpreview says here:
weight under 1 kilo
minumum aperture f/16
So, we must arm ourselves with a little bit more of patience.
I remind you that Fujifilm will release 3 more lenses this year. We launched the discussion in this article.
I am working on this. Expect updates on fujirumors.com…. :).
Fujifilm X100V: BHphoto / AmazonUS / Adorama / Focuscamera
images via digitalcameraworld – via weibo camerabeta  – via dpreview