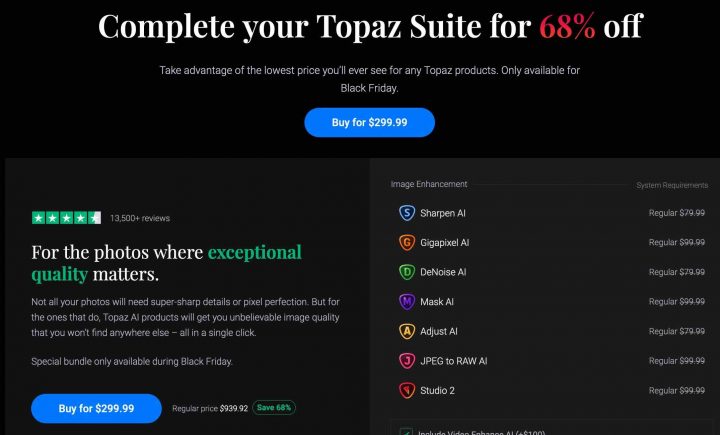 Topaz has released a very short video, where they give you a rapid overview on what you can do with their Apps. You can see the video below.
If you want to get a bit more detailed overview, down below is a quick written summary of every single feature including before/after images.
Thanks to the Black Friday, you can get the TOPAZ one-time-only mega bundle deal with a hefty discount of 68% here.
You'll get DeNoise AI, Gigapixel AI, Sharpen AI, JPEG to RAW AI, Mask AI, Adjust AI, Topaz Studio 2, and Video Enhance AI for just $299 instead of $1,000.
If you are not into video, you can remove Video Enhance AI from the bundle and hence get it all for just $199!
And if you already own at least one if not more Topaz products already, you'll only pay for what you don't own – meaning you still get to take advantage of some serious savings and Topaz will extract what you already own.
Check out the Topaz Bundle deal here.
Topaz Products Overview