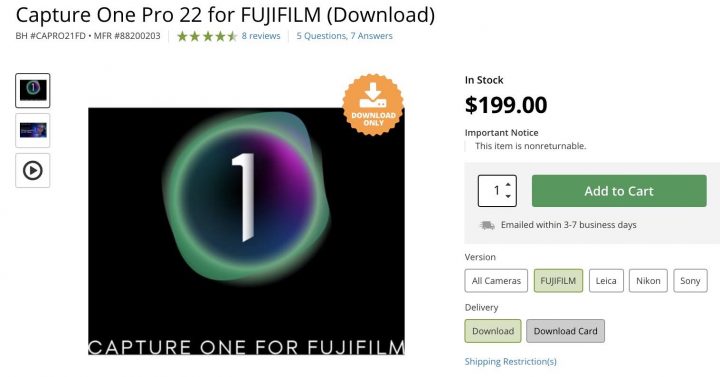 If you were a pure Fujifilm shooter, chances are that you got Capture One 22 for Fujifilm only as this version is substantially cheaper than the full Capture One 22 version (that supports all cameras).
However, Capture One announced that starting today they will terminate all brand-versions, meaning you'll able to purchase only the all cameras version of Capture One 22. And indeed, you can't find the branded version on their store anymore.
Capture One will still support the branded versions for 2 more years with updates.
Down beloiw are the deals Capture One offers in the light of the latest changes, including a free upgrade if you:
currently have a subscription for Capture One for Sony / Nikon / Fujifilm.
own a perpetual license for Capture One 22 (the latest major release on Dec 9, 2021) for Sony / Nikon / Fujifilm
Given that the Fujifilm branded Capture One 22 version is still availbale for download at B&H Photo at this point, maybe it's not a bad idea to quickly grab a Fujifilm-only copy at BHphoto here and then get a free upgrade to the all cameras version in April 2022. At least I think that is possible given what Capture One writes below.
You have a perpetual license for version 22 of Capture One for Sony / Nikon / Fujifilm: You'll get a free upgrade to our flagship product, Capture One Pro in early April 2022. That means you'll be able to use any camera brand you like.
The above is valid if you own Capture One 22 for Fujifilm already.
If you own Capture One 21 for Fujifilm, then Capture One says that "for the next 3 months (until 18.04.22), you will be able to upgrade to Capture One Pro 22 at a 25% discount."
You can find all the details down below.
Full Capture One Statement