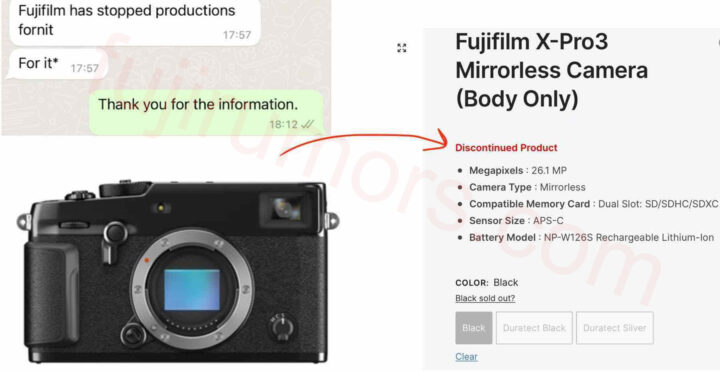 Some reports are appearing that indicate how the the Fujifilm X-Pro3 has been discontinued.
The first one comes from India, where a fellow X shooter looking for an X-Pro3 spoke to a Fujifilm distributor, who was informed by the regional Fujifilm sales person that the Fujifilm X-Pro3 is discontinued [see screenshot above].
Another report comes from a Swiss Fujifilm shooter, who got told the same by a Swiss distributor (X-Pro3 no longer in production), with the addition that no Fujifilm X-Pro4 is in the pipeline.
Speculations are rising, and so far here are the options I see.
Fujifilm X-Pro4 is coming
Fujifilm X-Pro3 simply is not selling well enough anymore and the parts shortage that is still going on forced Fujifilm to stop production on lower selling models
The class action lawsuit the X-Pro3 is suffering is forcing Fujifilm to stop production
What's your most likely scenario?
If you ask me, I'd go for Nr.2. But the option that would make me most happy is the Nr.1 of course :)
Fujifilm X-Pro3: BHphoto, AmazonUS, Adorama