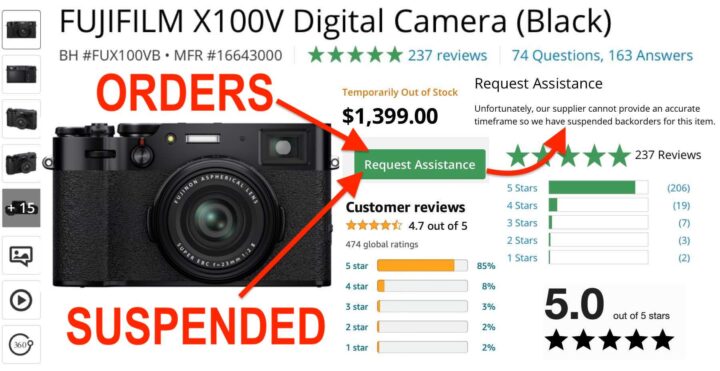 X100V – A Success?
We know that the Fujifilm X100V has been an incredible success for Fujifilm.
A success that reflects also in the great feedback received from all over the web, for example:
Yep, you read it right: despite all the fantastic and super-hyped and hyper-popular gear Sony, Canon and Nikon have launched, the video that most people watched in all these years on DPRTV was the X100V review.
And not to talk of the great customer reviews it is getting all over the most popular stores:
But all this popularity and love came at a cost:
And, new today, even B&H Photo has given up at this point and has stopped to take any orders for the Fujifilm X100V.
On their website now, instead of an order button, you get a "Request Assistance" button and when you click on it it says:
Unfortunately, our supplier cannot provide an accurate timeframe so we have suspended backorders for this item.
X100V – A Failure?
Given the massive interest for the X100V and the inability for Fujifilm to deliver, the question that I now have is that this can be seen as a success or a failure for Fujifilm.
I mean, clearly Fujifilm can call it a success, as the demand is high. But they could have made so much more money, if only they were able to deliver the X100V.
And while to a certain degree it's OK to have delays for a very popular camera, coming to a point where you totally block orders for over half a year with no outlook for the situation to improve, also signals a certain failure on Fujifilm's side to demonstrate flexibility and creativity in adjusting plans and production properly.
Yes, they did try some curious solution like the use of Blockchain to optimize supply network of digital camera parts, but that was done 1 year ago and the results can't be seen anywhere, with many Fujifilm cameras still not available or in some cases even discontinued, despite people having those cameras on order, as it was for example the case for the X-E4, a camera MANY of you guys ordered, but did not receive because Fujifilm stopped producing it.
And in fact, back in May, Fujifilm candidly admitted that they are still struggling with parts shortage.
So from this point of view we could see all this also as a failure, as Fujifilm can't capitalize anywhere near to what they could have, if they'd have been able to organize a realiable parts supply for the X100V.
X100V Successor?
I know some will wonder what this means for the Fujifilm X100V successor (however they are going to call it).
I am working on the rumors and as soon as I have something reliable in my hands, I will let you know.
But imagine you are Fujifilm, you have an insanely popular camera in the house and all you have to do is to manufacture as many of them as possible to make lots of money.
If I was Fujifilm, then I would not be in any hurry to come out with a successor and just use every part I can get to make as many X100V as possible for as long as it will remain this popular. I mean, why keep aside parts for an eventual Fujifilm X200 or X100VI or however they are going to call it, if they can make great money with no need of further R&D investments today with the X100V already?
But again… that's just my personal perception of this situation.
What matters is what our sources tell us in regards to the Fujifilm X100V successor. And for that, my friends, I invite you to stay tuned on FujiRumors.
The rumors… they will… drop… for sure.
Feeling Lucky?
"I feel lucky and will click the links to see if the X100V is in stock*" :)
*if you clicked, then really I'd love to have your kind of optimism