Fujifilm Managers Interview: Talking Fujifilm X-Pro4, Autofocus, Fujifilm X-T5 Sales, 5th Generation GFX, X100V Demand and More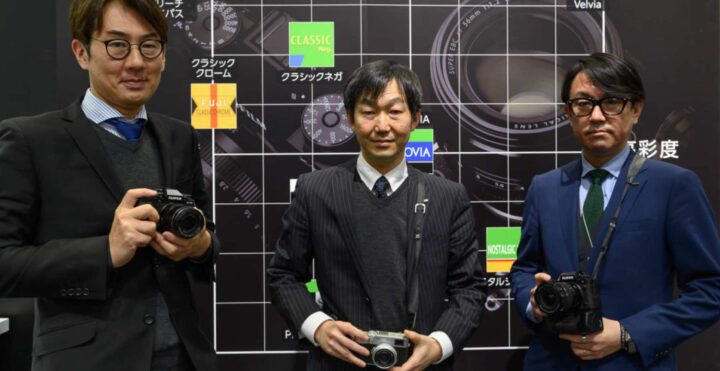 The French website Phototrend interviewed a couple of Japanese Fujifilm managers at CP+.
You can find the full interview in French linked down below as well as a summary.
Interview
5th Generation X series Gear
5th generation expands the range of possibilities: for moving subjects with the X-H2s and commercial, product, landscape photography with 40 megapixel cameras
other cameras with stacked sensor? "There is no point in releasing the exact same camera. If we can come up with a different concept using its back-illuminated and stacked sensor, of course we will use this sensor."
Firmware and Autofocus
latest Firmware 3.0 for X-H2s was developed based on user feedback
user feedback helps to improve Fujifilm's cameras
Fujifilm updated the deep learning library in order to detect subjects better
Fuji is also improving the algorithm itself to obtain better autofocus
Detection and Focus are different, and Fujifilm needs to improve both
improved AF is important also to encourage more videographer to use Fujifilm cameras
focus for stills has to be quick to capture the subject. For video it should be smooth, stable and precise for a cinematic expression and also choosing the AF speed is important
X-T5 Sales & Dials vs PSAM
X-H2 and X-H2s have been launched before the X-T5, but sales of X-T5 were very good anyway.
sales of X-T5 are doing well also when compared to the sales of X-T1, X-T2, X-T3 and X-T4
X-H line opens up a whole new category and does not affect X-T sales
X-T5 more focused on photography
people commented that Fujfilm started to remove dedicated dials. But we develop products for each category and the request of each user. X-T5 has all the dials
for photography centric dials the dedicated dials are the best fit
Fujifilm X-Pro4
X-Pro4? Of course we can't say when, but we haven't forgotten the X-Pro series
"However, we only release new products when necessary and useful. We don't release new bodies just because we can. Especially for the X-Pro which is a very special device. For his successor, it has to make sense and really benefit users. Once these conditions are met, we will be able to launch a new X-Pro device."
X100V demand
on TikTok the younger influencers don't show images of the X100V, but they show themselves carrying the X100V. This means the camera looks cool and it's like a fashion item
The X100 series is also a very important gateway device for Fujifilm. By using it, people learn about our color science and image quality, and often switch to our hybrid system
Fujifilm will try to increase production capacity to meet X100V demand. But the demands keeps growing
if the demand would stop now, they could catch up in 2/3 months
no new factories are planed for now. But other changes are made, like the design of certain components to work in a similar way to reduce the risk of shortages
Open X Mount and How Many Lenses per X and GFX camera
positive feedback from customers about opening the X mount to third parties. Customers have more choice
but also X mount lens sales are increasing, which means the system is gaining popularity
X shooters have usually 2.5 lenses per camera
GFX shooters have at least 3 lenses per camera
5th Generation GFX?
5th generation GFX? "Unfortunately, we cannot mention our plans for future cases. But as you can imagine, now that we are in the 5th generation, we will of course continue to invest in the development of the GFX system."
5th generation processor supports AI and deep learning
technically speaking this could be implemented in a sportier GFX camera, but performance would be different due to size and weight of GF lenses. Also depth of field management is different between X and GFX.
New processor could improve GFX performance, but we can't say when or how
there could be a demand for sports GFX medium format camera. There is no such camera on the market now
some photographers used the GFX100S during the Tokyo Olympics
R&D Team
at Fujifilm there is one product development team divided into several groups
Engineers can work on both, X and GFX series. Technology is identical
The Future
we don't know how things will develop in the photography market
during Covid, maybe because people could not travel, they might have decided to spent money in gear. It's unclear if now post-Covid the demand will keep to be this strong or not
the photo market has contracted sharply. People who use cameras today are enthusiasts [admin note: meaning that non-enthusiast just use their smartphones]
it's up to manufactures to offer superior devices for our users
the state of the market? There is no difference anymore between USA, Europe and Asia. The market has shifted everywhere to hybrid
as for lenses, Fujifilm is happy with the progress they made since their beginnings (also in terms of lenses for hybrid shooting), but they are not satisfied with the status quo and will continue to expand their range
Read the full interview at Phototrend.