Samyang AF 75mm f/1.8 for Fujifilm X Announced: First Looks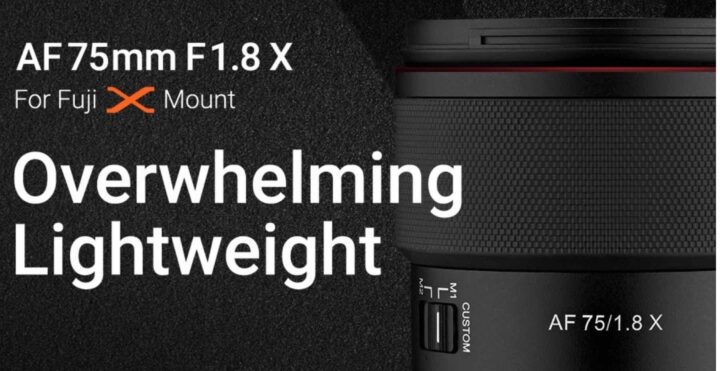 Samyang has now officially announced the Samyang 75mm AF 75mm f/1.8 for Fujifilm X mount.
Overwhelming Lightweight
Overwhelming Performance

The AF 75mm F1.8 X, this new overwhelming lightweight telephoto autofocus lens is the perfect match for the compact and lightweight Fujifilm X Series mirrorless digital cameras.

The AF 75mm F1.8 X offers a full-frame equivalent focal length of about 112.5mm.

This compact & lightweight prime lens offers outstanding performance with Samyang's advanced optical technology of over 50 years. The 2 HR (High Refractive) and 3 ED (Extra-Low Dispersion) glass elements of this new AF 75mm F1.8 X provide a stunning contrast and resolution in all areas of the image. This lens does not adopt even a single aspherical glass in its elements so that it can create refined and smooth bokeh.

The AF 75mm F1.8 X is advantageous for video shooting with its reliable autofocus performance and new "Preset Aperture Control" function on the "Custom Switch – Mode 2". Now, the Fujifilm X-mount camera users can control the depth of field more smoothly without noise or vibration when they are shooting videos.
It's their second X mount AF lens after the Samyang AF 12mm f/2 X.